Wildcat Alumni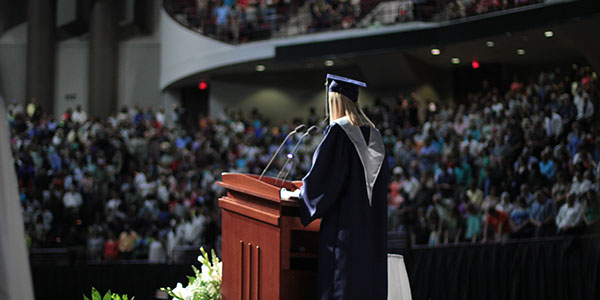 Last year history was written and put down in Wildcat history for all the classes yet to come. Tomball Memorial's first graduating class paved the way for future Wildcats. As the first graduating class left, a legacy was left along with them.
Devyn Crawford, now a freshman at Texas State University, is one of the seniors from the graduating class of 2014.
"Everytime I hear Wildcats I have to say 'go cats go'," Crawford said. "I will always consider myself a Wildcat. It will always be apart of me."
Last year and all of her other years as a Wildcat she held leadership positions in student council, newspaper, student government and many others.
Crawford carried her duties as a leader to her new home at Texas State.
"Right now I'm a part of my dorm government and we meet every week to talk about things. It's a lot of responsibility but I enjoy the stress just like I did in high school," Crawford said.
Because of Crawford's academic excellence in high school, she is now enrolled in the Texas State honors program.
"This semester, I'm taking Preserving Humanity a class all about people and their behaviors. It helps me to improve on my flaws like reading," Crawford said. "It's a lot of reading, which I once hated. But it's so worth it, because the opportunities I've been given are just amazing."
Teddi Cliett, another Wildcat alumni, has moved on to Sam Houston State University.
"There are so many opportunities in college that I didn't have in high school," Cliett said.
Cliett recently moved in to her dorm and has hit the hard realization that homesickness is a reality.
"Nobody thinks that moving out as a big change in your life, but I can't explain how much it impacts you," Cliett said.
Hours away from home, the distance becomes clear.
"You don't realize how much you miss your parents and your home until you're gone and alone at College," Cliett said.
According to Crawford, the smaller things about home starts to resurface during the freshman year of college.
"I really miss my mom's home-cooked meals. There is just something special about them that I always miss." Crawford said.
As new college students, school has become the main priority in their lives.
"I'm a communications major and all my classes focus on things that really interest me. I really do focus more than I did in high school," said Cliett.
Crawford shares Cliett's experiences with her new classes.
"All the students in my honors courses are amazing," Crawford said. "I've already made great friendships."
Making the transfer from a senior to a freshman can be a tough feat for some students on a physical and mental level.
"Being a freshman again isn't that hard at all, nobody makes fun of you like what happens in high school they're all excited for you to be here," Cliett said.
Texas State University has a special way of spotting the freshman.
"It's really funny, everyone knows that you're a freshman. I have no idea how, but they do." Crawford said. "Yet they're still very welcoming and friendly," said Crawford.
Even though they have both moved away from home, they both left a legacy within their graduating class that will last forever in all Wildcats.
"I don't care if they don't remember me personally," Crawford said. "But I hope they remember our class and all the things we set up because we were the best class of students."