ROTC Remembers Veterans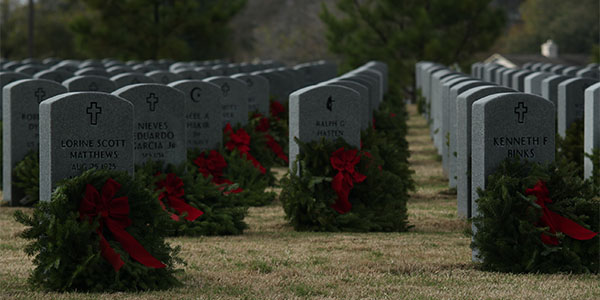 The Wildcat ROTC attended a wreath laying at the Houston National cemetery on Veterans Memorial Dr. on Saturday Dec. 13. The laying commemorated all of the soldiers who have given the ultimate sacrifice and the soldiers who can not be home for the holidays.
Wildcat ROTC cadets sold 226 wreaths during the month of November by going from door to door and as well as setting up a stand in front of Wal-Mart.
"I didn't make my cadets go. It is all on a volunteer basis, but we do encourage them to go," retired Marine First Sgt. Anthony Randle said.
The ROTC cadets and willing students rode a bus to and from the cemetery with Randle and Lt. Col. Carlen Charleston.
The WAA, or Wreaths Across America, is a program that has fundraisers to help collect money for veterans and fallen soldiers. Their goal is to set a wreath on each headstone.
"Thousands of wreaths are sold each year, but the program falls short of laying one on each headstone in the cemetery," Charleston said.
Math teacher and active Texas National Guard First Lt. Raymond Davis has served 16 years in the Texas National Guard and plans on continuing. But like many people, Davis was not be able to attend the laying because of prior commitments.
"I believe it's one of the many things that the people do in memory of the soldiers who  can't be home for the holidays or who gave the ultimate sacrifice for their country," Davis said.
When the community comes together, it impacts the veterans and their families and shows them how thankful their community is for their sacrifices.
"The wreath laying is very symbolic so the effect it has on veterans is really special," Randle said.