Small Town Teacher Leads FCCLA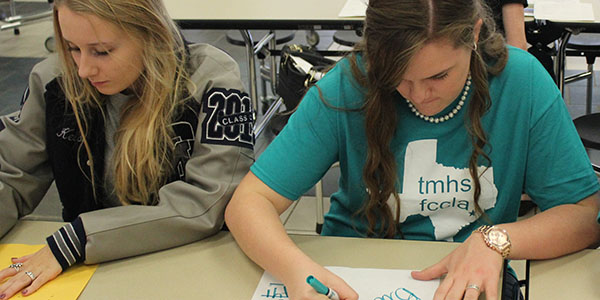 Mid year orientation, new classroom decorations, and mountains of paperwork to do in a hotel room. The Wildcat students and staff welcome the new iPET and Nutrition teacher, Ashley Richey.
"She's very enthusiastic," teacher and student council sponsor Irma Sibert said. "I'm sure this year will smooth out rather nicely."
Miss Richey grew up in small town Stephenville, Texas. She graduated high school with a softball scholarship to a junior college then transferred to Tarleton University.
"It all happened so fast," Richey said. "I finally graduated this past December, called the school for an interview and then was told to move down here. So here I am now."
Richey is not only a teacher, but is also the FCCLA leader and coordinator. FCCLA is known as "The Ultimate Leadership Experience". Their mission is to promote personal growth and leadership development through Family and Consumer Sciences education. They spend their time growing as leaders and preparing for their big contest in Galveston on the 20 of February.
"I've worked with FCCLA before, but only helped," Richey said. "I've never been the leader of a team before, so I'm trying my best to make this contest season great."