Engineering Takes Off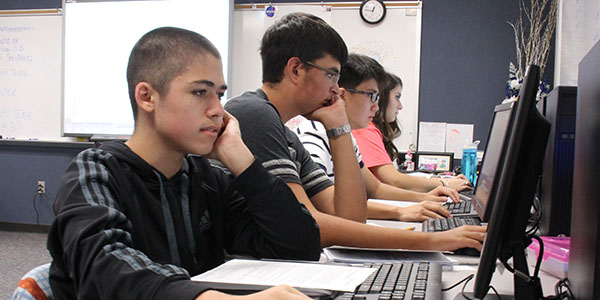 Engineering classes have been introduced for the first time this year, where students get to design different objects and then build them in person. The class is very selective; students must have passed a certain test with high enough scores to be accepted.
"We had an overwhelming response," engineering teacher Vanessa Coronado said. "The kids are having a lot of fun."
Students who take this class get to participate in a three or four year program. In the class, students learn real life skills such as teamwork that will help them later in life.
"The class has been pretty interesting," freshman engineering student Chris Sanchez said. "Coming up with new ideas to help humanity is pretty cool."
Students in this class will be better prepared for a career in engineering. Already, they are learning valuable skills that will help them in pursuing their career.
"I see the kids enjoying it and finding a good career pathway that they are genuinely excited about," Coronado said. "There are so many fields of engineering out there that they are bound to find something they love."
The course is already taking a hold and is on track to becoming a three or four year long program in the district.