Band Performs Without Instruments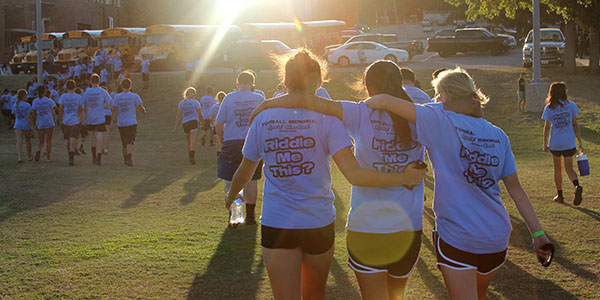 Last Friday night, the varsity football team played at Magnolia, with the band accompanying them as usual. Things did not occur usually though, when the band could not perform because their instruments did not reach the stadium.
"Everybody thought the truck had gone to Tomball, but we got clarification that it just got stuck in traffic and was still not at the game by halftime," band member Emilie Moellmer said.
The truck was held back due to a wreck on Highway 2978, leading the band to improvise.
"We had a plan," band member Nicole Logiudice said. "If the truck didn't get here we would just stay in the stands and cheer the whole time, which is what we did."
Logiudice explained that each band member knew their own notes, and just sang them rather than played them.
"Even though we didn't perform, we were still encouraging the team and cheering them on," Moellmer said. "We even got to see the drill team perform."
Since the band plays the drill team's music during halftime performances, the drill team had to decide if they should dance to a recording of the music or not dance at all.
"I encouraged the team to perform by telling them we would want to look back at this moment later in life, and remember the time we performed without the band," drill team social officer Michelle Heinrich said.
The drill team did end up performing to a recording of the band while band and color guard did not perform because of the absent instruments.  The next football game is the annual Patriotic Show on Friday, November 6, at Tomball.