Yearbook Hosts Signing Party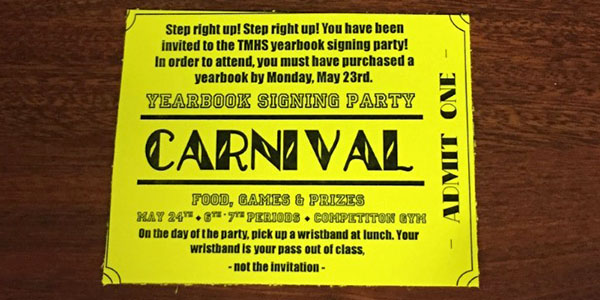 Yearbook will host a yearbook signing party Tuesday, May 24th, during 6th and 7th periods. Students received invitations to the party during their second period, and on May 24th, they will pick up wristbands during lunch which will admit them to the party.
Yearbook adviser Jill Chumley came up with the idea and has been wanting to host the party since the school first opened.
"I've had this idea for a while," Chumley said. "Last year, we got the books late and decided to host a signing party the morning of graduation. Kids met in the cafeteria, where we provided them with breakfast, music, games, and prizes. Mrs. Houston attended, and liked it so much that we decided to make this a tradition."
The party is centered around a carnival theme and will be held in the competition gym.
"This year, we'll have a limbo station, along with ladder ball, prizes, a popcorn machine, and water," Chumley said. "The yearbook staff and I are so excited to see the students enjoy the party."
The staff has been working on creating invites to the party as well as ordering the admission wristbands.
"We've been working on creating the invitations and other aspects of the party in committees," staff member Michelle Heinrich said. "The staff voted on the best invite to be distributed."
Heinrich is a first year member of yearbook and has enjoyed the process of designing the book.
"The yearbook is beautiful," Heinrich said. "Working on the book was often stressful when approaching deadlines, but was all worth it when we saw the book. I'm looking forward to the signing party."
First year editor Hanna Homer has taken many of the pictures for the book and has been involved in yearbook events all year.
"I am very proud of the yearbook and am excited to see the look on students' faces as they look through the it," Homer said.
The last day to buy yearbooks and be admitted to the party is May 23rd.