Administration Adds Murals to School, Boosts Spirit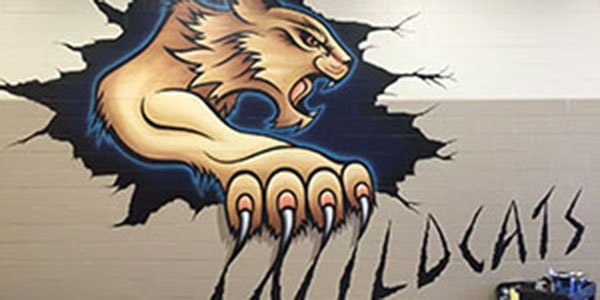 As many students have noticed, new decor has been painted around the school. From a large, growling Wildcat to greet students in the athletic hallway, to a blue and white mural boasting the school's core beliefs at the front entrance, principal Chad Smith is hoping to boost school pride and patriotism.
"I want kids to get excited about coming to our school," Smith said. "It's about the building feeling more personal to them, feeling like a family."
The idea to paint murals came to Smith over the summer, while he was brainstorming ways to increase school spirit.
"There was a lot of space on the walls that was just blank," Smith said. "We wanted to liven that up by adding some paintings, murals, and spirit figures."
Taking initiative, Smith hired a company called Eiffel Art. The owner came to the school and sketched designs which he sent as proofs to Smith for approval.
"I gave Eiffel Art the mascot of the Wildcat and a lot of our core beliefs to design it all," Smith said. "Once I approved the designs, they came and painted."
But designing and paying for the murals was not a one-man job. In fact, the project has been funded with money left over from past senior classes.
"It is like that senior class has a symbol to remember them by," Smith said. "All the paintings that go up are going to be here for several years, and that class will be remembered for donating to them."
The murals are expected to last for a very long time, so that Wildcats will be proud of their school, feel like they can call it home, and look forward to coming back someday.
"I think it's super cool we're here when these murals are being painted," junior Madison Samples said. "We have such a nice school, and some of that pride should be reflected around us."
According to Smith, the murals have received very positive feedback from students and parents alike, who say it feels more personable already.
"My favorite is the big blue Wildcat in the small gym," Samples said. "It used to just feel like an extra gym without much exposure, but now it feels more like a part of us."
In addition to what has already been painted, the administration has even more plans for decking out the school in spirit. Flags promoting colleges are currently being hung in the cafeteria, and there's still more.
"Mr. Williams had the idea to hang up the flags with our core beliefs outside the front entrance," Smith said. "We plan to add more inside, so when you go down Main Street there will be several blue flags with the Wildcat "T" and "M". We're very excited about it."