UIL Team and All-State Musicians Treated to Lunch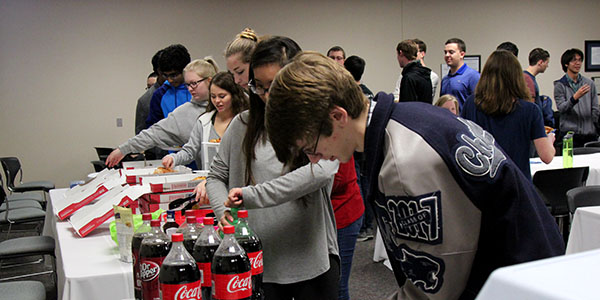 Principal Chad Smith held a catered lunch for the UIL academic team and all-state musicians on Thursday, January 19. The lunch included pizza, salad, and soft drinks, with all expenses cared for by the school.
Students were excited to attend the lunch and thought it kind of Smith to hold it.
"Holding the lunch was a very sweet thing for Mr. Smith to do," junior and UIL competitor Katie McCarver said. "I really enjoyed the lunch and spending time with other UIL students."
Smith introduced the musicians who qualified to perform with the all-state band and choirs individually. The students part of the all-state band include seniors Daniel Toscano, Spencer Alfredson, Austin Powers, and junior Audrey Cascarelli. The all-state choir students include senior Grant Wheeler and junior Aron Olivares.
"We plan on hosting a lunch after each UIL meet this year," Smith said. "Our goal is for these students to move on to the state UIL meet. I'm very proud of their work so far."