From Serving the Nation to Serving the School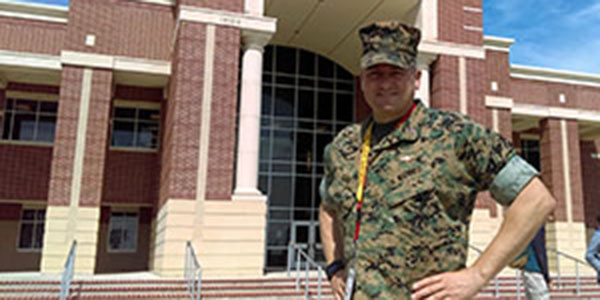 Chief Warrant Officer 4 Shane Duhe is the new Marine Instructor at the school. This is Duhe's first year teaching outside of the Marine Corps.
"Becoming a teacher was an unexpected blessing," Duhe said.
After serving as an enlisted soldier in the United States Marine Corps for 24 years, Duhe decided to become a Marine Instructor teaching JROTC.
"I felt that I had been a teacher for many years in the Corps," Duhe said.
Duhe always wanted to serve his country. Learning how to lead in the Marine Corps taught him how to be a teacher.
"I have led many different units; possibly 100's of individuals," Duhe said. "I've led in different climates and places; from airfields to battle zones."
In the Corps CWO4, Duhe had many different jobs over the 24 years, leading to him learning new skills.
"I was a parachute rigger, landing supporter, and logistics chief among other jobs," Duhe said. "But above all else, I was a Marine."
Duhe's experience serving in several countries around the world will help him teach about the ways of life around the globe.
"I went to 21 different countries while in the Corps," Duhe said. "My favorite country was Japan; I enjoyed their culture."
Now that he is a teacher, Duhe must change his lifestyle a bit.
"The thing I had the most trouble remembering was to speak softer," Duhe said. "Although I can yell, I'm sure my cadets still feel my sincerity."
Every teacher has one moment that they are most proud of, even if they've only been teaching for a few months.
"My favorite moment so far has been teaching our cadet battalion how to run a major league event; the event was the drill meet we held on April 1," Duhe said. "I was so proud of seeing all my cadets working together and succeeding."
Even though he's a teacher, he is still a Marine.
"Once a Marine, always a Marine is a motto the Corps uses," Duhe said. "That is fine with me."