Mrs. Moore Awarded A+Teacher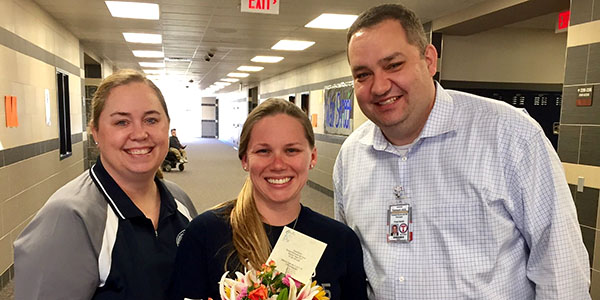 Tessa Moore was selected to be one of four A+ teachers. Teachers and staff voted on which teachers should be awarded the title of A+ Teacher during the last week of March and first week of April.
"I was really happy when I found out that I was an A+ teacher," Moore said. "I was surprised but very glad."
Moore graduated from Texas A&M University. She majored in math and minored in education and sociology.
"I knew that I wanted to become a teacher ever since my sophomore year of high school," Moore said. "That year, my teacher was skilled at explaining problems to me; I realized that I'd like to be a teacher."
Many students say Moore is very good at explaining math problems.
"My favorite thing about Mrs. Moore is the way she explains the lesson that she is teaching," Ashley Whiting, a student of Moore's said. "I'm glad she's my teacher."
Moore takes extra time to help students understand a lesson that she is teaching.
"I will usually have extra tutoring hours for my students to attend," Moore said. "I also write students practice problems if they finish their review before a test day."
Not only does Moore take the time to help students understand what she is teaching, but she also helps students pay attention during class.
"I like to involve everyone in the lesson when I am teaching," Moore said. "I always put the easiest math problems at the beginning of the lesson."
Students agree that Moore is a very good teacher.
"She always takes the time to help me and explains to me what I did wrong so that I can fix it," Whiting said. "She's one of the best math teachers I have ever had."
Although Moore loves teaching math, she also enjoys other subjects.
"I really enjoy teaching any math course, whether it's algebra or not," Moore said. "If I had to pick another subject to teach, I would choose English."
Moore loves her job and enjoys teaching high school students.
"My favorite part about my job is seeing the students' faces once they understand what I am teaching," Moore said.