Dairy Team Moves on to Nationals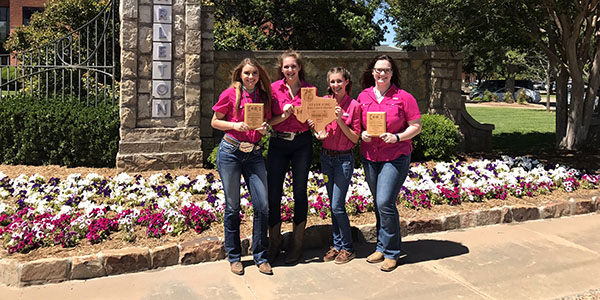 The Dairy Cattle Judging Team is advised by Mrs. Lewandowski and consists of four contestants: juniors Kaitlin Gassiot and Katie Stackhouse, sophomore Grace Binder, and freshman Hannah Stephenson. The girls have been practicing every Tuesday and Thursday since early February.
"On Tuesdays, we take a test covering the topics we need to know and practice pedigrees. Some Tuesdays, we study a class of cows," Stackhouse said. "On Thursdays, we go to a dairy to look at real cows in person."
Throughout the contest season, the girls have competed against roughly 300 teams. Last week, the girls competed against 50 teams that advanced to state from their area, and won first place, winning state.
"My jaw dropped; I was not expecting to win," Gassiot said. "It was crazy because we won by 20 points, which is a lot more than one would think. We were all crying and it was super emotional, yet extremely wonderful. It was an unforgettable experience."
The dairy team will now be advancing to nationals. Nationals will be held during October in Indianapolis, Indiana. The team will practice throughout the summer break and into next fall.
"For nationals, we are going to practice before school ends and meet during the summer and all of the fall semester to practice until we compete," Gassiot said.
The team will learn new material in order to perform to the best of their abilities. Currently, Dairy Team knows half of the information required to be successful at Nationals.
"We will be learning new information for the contest; it is not like our Texas contests," Lewandowski said. "At Nationals, oral presentations will be given, along with a team solving a portion of the competition, and judging including pedigree rather than just observing a cow."
Lewandowski and the rest of the team have high hopes of doing well at nationals, however, they're not going to be too disappointed if they do not place; the team feels as if it is already an honor to make it this far.
"Unfortunately, Texas is not known for doing well at the nationals level for the dairy cattle contest," Lewandowski said. "My goal is to place in the top 20; I believe it's an attainable and achievable goal."