120 Seconds of Mr. Smith on the Air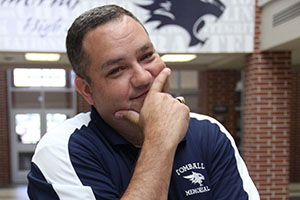 The start of the school year means the start of new beginnings.  Tomball Memorial is doing something it's never done before- it's getting up close and personal with its principal, Chad Smith.
Smith 120 is now a segment that will be aired on Friday's morning announcements to give students the opportunity to get to know him better.
"Smith 120 is two minutes, so 120 seconds or less where kids can see me," Smith said. "So that every kid knows who I am, that I'm accessible and that every kid knows they can always ask me any question they want to ask or that I support them when they seek me.  I want kids to see me, know me, and know what's going on."
The video morning announcements is operated by the Advanced Broadcast Journalism class and gives students an insight on what's going on in the school.
"I like the video morning announcements," Smith said.  "I feel as if they're exciting for the students.  They're filled with modern things that catch the students attention but also gives them relevant information at the same time."
Smith has decided to use these videos to his advantage.  He is wanting to inform students of things going around the school in a way that he knows will capture their attention.
"Each week I'm going to talk about upcoming events, things going on in the school, school spirit, tenants, and service in the community," Smith said.  "I'll also be adding a little flare with it to let them see my personality in there."
However, Smith won't be alone every time he's aired on the announcements.  He's hoping to get not only other administrators involved, but also some students.
"My goal is that when we get it going like it should, to have both staff and students with me," Smith said. "It will be covering serious topics in it, but I will be sure to include comedy as well.  It's really going to be a chance for students to interact with me."
The first Smith 120 aired on Friday, September 15th and it's already received positive feedback from the students.
"Smith 120 was my favorite part of the news.  I'm excited to see more segments," senior Haley Devine said.  "I feel as if it's a great and creative way to keep students in the loop about what's going on around the campus."
Smith is excited to get his show on the road.
"I can't wait to get Smith 120 going.  This is new to the kids and I'm ready to get it going into a weekly pattern," Smith said.