Student Council Reveals Homecoming Spirit Days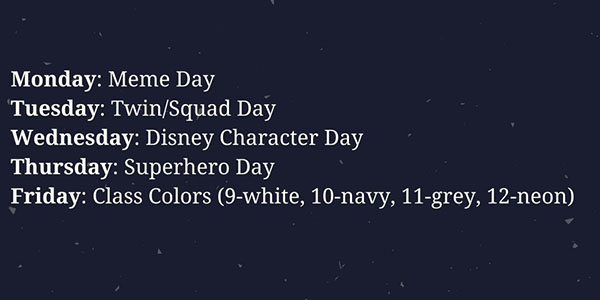 On their Twitter, tmhs_stuco, the Student Council revealed the Homecoming 2017 spirit days on Monday. The video featured StuCo officers Jessy Escobar and Gigi Sperduti, and was also shown on the TMHS News @ 9. Spirit week is listed below.
Meme Monday – Dress up as your favorite meme, such as Arthur, Meryl, et cetera.
Twin/Squad Tuesday – Correlate your outfit with your best friend or in a group.
Disney Wednesday – Dress as a Disney character, there are too many options to count.
Superhero Thursday – DC or Marvel? This is your chance to sport your favorite superhero costume.
Class Colors Friday – Each class will dress according to their class color; listed below.
9 : White
10 : Navy
11 : Grey
12 : Neon
Don't forget, Homecoming tickets are available online for 27 dollars, and will be available at all lunches next week for the same price. The dance, A Travel to the Far East, is on October 7.