Dairy Cattle Judging Team Takes on Nationals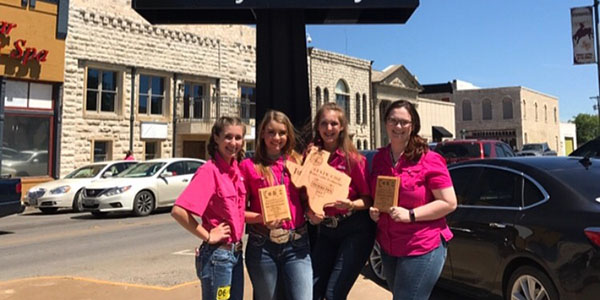 The Dairy Cattle Judging Team won State last school year, and are now preparing to travel to Nationals in Indianapolis, Indiana.  The team consists of three contestants under the direction of Mrs. Lewandowski: senior Kaitlin Gassiot, senior Katie Stackhouse, junior Grace Binder, and sophomore Hannah Stephenson.
"We take a lot of trips and on those trips we make memories and bond so much," Stackhouse said. "It really makes our team special."
The team will judge dairy cows, give reasons for their placings, take a knowledge exam, and participate in a team activity. In order to prepare for the contest, the girls began practicing over the summer, going over the official handbook, rules, and the event itself. They created a detailed PowerPoint to study.
"We met every Wednesday during the summer to practice," Gassiot said. "We were given reasons and new knowledge to prepare for Nationals."
The team also traveled to Tarleton University to meet the school dairy team and the official judges from State.  The team met up at Sulphur Springs with farmers from Minnesota to learn about a team activity that could resemble what they will be doing at Nationals.
"We've been working so hard," Gassiot said. "We've even gone to the extent of making videos, each week filled with knowledge and reasons about why we practice."
However, as the team is nearing the contest, their excitement has turned into nervousness.
"The other teams have an advantage due to the fact that the areas they grow up in have a lot of dairies, so they've been exposed to it more than we have," Gassiot said.
The team will be leaving Monday at 4 am and won't be back until Friday at 10 pm.
"We're so excited to be traveling and to be given this opportunity of competing at Nationals," Binder said.