StuCo and HOSA Gear Up for Annual Battle of the Organizations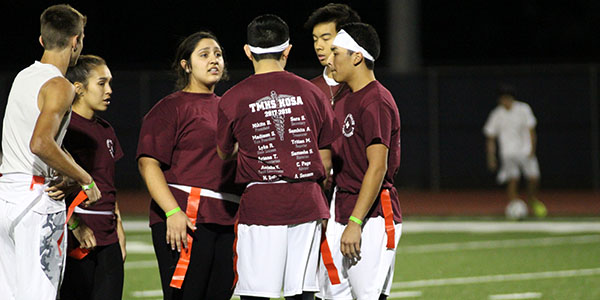 Fierce eyes. Knowing smile. Hands clenching a bag of cans. Students must keep fighting to the end. Who will win the battle of the organizations with the most goods?
Battle of the Organizations is a competition to see what organization can donate the most cans. All proceeds go to St. Anne's food pantry for those in need.
"The goods go to those who really need it," StuCo Committee Member Sara Naiser said. "Because of Harvey, that number is much higher."
Participants of the competition thus far include Key Club, National Honor Society, Business Professionals of America, Student Council, and HOSA.
"Key club is the team to beat in the drive," Naiser said. "It's such a large organization and have donated the most cans in the past."
The participants not only encourage donations, but compete in the annual Hunger Games on November 15th from 5:30pm to 8:00pm. The admission fee for the game is five cans and a completed permission slip.
"At the end of the day, it's not about winning," Naiser said. "It's about all the donations to an amazing cause."
Donations are open until the 15th of November and can be dropped off at the library throughout the day. Some of the main things asked for include cans of sugar, flour, coffee, soup, canned vegetables, cereal, and pasta.
"Our city is still suffering from the heartbreaking tragedy of Hurricane Harvey and Thanksgiving is fast-approaching," Naiser said. "St. Anne's Food Pantry is in desperate needs of these goods."
If you can bring the needed items, please do so to help your community. Your help will be greatly appreciated.