Senior Accepted into Harvard, First in School's History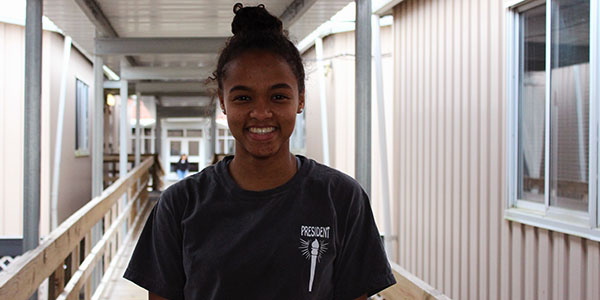 For the first time in the history of the school, a student has been admitted to Harvard University, which is renowned among Ivy League colleges.
"I was actually on a bus ride home from a basketball game when I got the news," senior Elise Colin said. "I opened the portal and all of a sudden my whole team was jumping all over me so that was pretty exciting and unreal."
Colin has anticipated that exact moment since long before turning in her college applications.
"It's been my dream to go to Harvard since I was younger and I heard about how great of a law school it was," Colin said. "As I grew older, I became interested even more in its diversity."
Aspiring to major in political science, Colin is also attracted to Harvard's governmental department.
"I applied to Harvard because I wanted to try and get the best education I could," Colin said. "Especially since it is known for its government studies."
As one of the top students in the senior class, Colin has worked very hard to be successful in her educational endeavors.
"My parents inspire me to work hard in high school," Colin said. "I consider them to be intelligent people, so I wanted to follow in those footsteps. I knew that if I worked hard, I could get into a good school."
Seniors are often overwhelmed by the college application process, and Colin tried not to let it psych her out.
"Between applying and being accepted, I was extremely nervous, yet strangely calm," Colin said. "I turned in my application and there was nothing else I could do, but I was definitely very anxious about getting the results. "
Like many of her classmates, Colin is still undecided about where she will attend college in the fall.
"I want to attend Harvard, but I am also still looking at Georgetown University and the University of Texas at Austin," Colin said. "Those are two great schools for governmental studies, so I am still not entirely sure."
Colin is honored to be leaving a legacy at the school as the first of its students to be accepted to such a prestigious school and has complete faith it will happen again.
"It's pretty cool that I'm the first student to get into Harvard, but I strongly doubt I'll be the last," Colin said. "I hope that other students now realize that it's not impossible for a kid from a public school in Tomball to get into one of the top schools in the nation."