He Sees Change
Lieutenant Colonel Carlen Charleston leaves teaching to pursue dream and inspire others.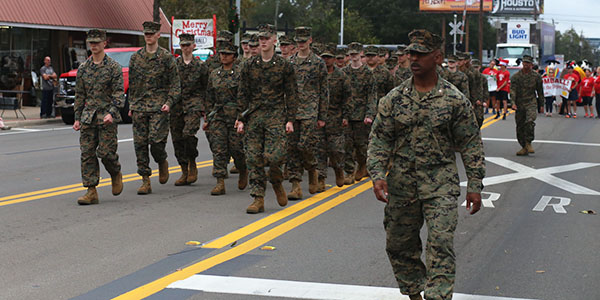 Making a difference. It's something that many people dream of doing in their lives, but never put into action.
Unless, of course, you're Lieutenant Colonel Carlen Charleston.
After 12 years of teaching, Charleston is retiring to tour the United States and promote his movement entitled Eradicate Race and Strengthen Ethics, or "E.R.A.S.E. Race." His desire is to unite all Americans as one human race and erase separation by skin color.
"My thought is we may be physically de-segregated, but mentally we are not. Why is that?" Charleston said. "My goal is to unite all Americans as one human race, and then together we can achieve so much more than we could divided like this."
Charleston's movement is inspired by his book, currently titled "I See People," which addresses all the issues he hopes to speak about during his tour.
"I started writing the book about two years ago," Charleston said. "I've gone through several evolutions of it because I wanted to get information from people all over the country and input it into the book, or maybe even some of it into a second edition."
He plans to leave in March of 2019, and will finish up all his organization of the movement until then. Currently, he is in contact with people all over the country.
"I'm working with tons of people all over the country in these virtual offices," Charleston said. "What virtual offices are are these people who are the, let's say, regional or state chairman in their area who are connected to all the other virtual offices in our organization via email or the internet, and they all have jobs to coordinate seminars and work groups and help our movement."
Charleston did not come to this decision easily. In fact, it took him years of going back and forth to finally decide to leave.
"I didn't want to stop teaching, I love teaching," Charleston said. "But every time some racial issue would come up on television, I'd blame myself, saying 'I should've already been out there fixing that. I could've stopped that.' I finally decided that if I didn't just make the decision, I never would, so I did."
Charleston isn't doing this without support. He has many people backing him up, including his wife and U.S. history teacher Daniel Craft.
"I've been with Lieutenant Colonel Charleston since he first told me his idea," Craft said. "We share the same views on this subject, so I told him I'd do whatever I can to support him to the best of my ability."
While many of his students are sad to see him go, they're glad to see him achieving his dream.
"I'm proud of him, of course, but I don't want him to go. It's like your family member is being deployed overseas," junior Carlos Pizarro said. "The ROTC is losing its father."