New club DECA prepares the future of business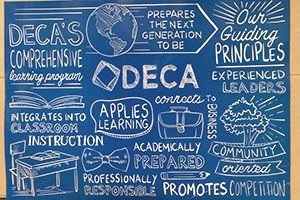 Business ethics, competition, and comradery come in a neatly bundled package – DECA. Combining entrepreneurship and education in a friendly student led environment, DECA becomes the little business corner in the diverse extracurricular community.
"DECA is a club dedicated to preparing the future businessmen and women of the world," junior Jyothika Kumar said. "We want to help prepare anyone that wants to pursue business."
Business Professionals of America, the previous "business" club, was absorbed in the creation of DECA. Now BPA joins the community of DECA with previous president and vice president of BPA finding new leadership positions in DECA.
"BPA was a great club and I really enjoyed it. I don't quite know why BPA wasn't created again this year but DECA is a new exciting opportunity" Kumar said. "DECA has a lot more popularity and promotions."
DECA is an established organization with over 3000 chapters across the nation.
"DECA competes in four categories at competition: Finance, Hospitality, tourism, marketing, and business management, senior Sayain Espique said.  "We are hopeful that we will turn out a lot of state and national winners"
DECA is a competition based club, so most of the meetings are prepping in the hope of advancing in the career development competitions also known as CDC's.
"We take the things we learn in school and we apply them in real world situations" DECA sponsor Lori Zaunbrecher said, "but I feel like maybe the school has the wrong perception about this club and may think it's just a boring business club but its not, its really not."
Competition start at the district level and then move to state in Dallas. If a competitor qualifies for state he or she moves on to internationals that is hosted in Florida.
"The competitions are so fun," Zaunbrecher said "the awards ceremonies especially are huge, they really put on a show and they even have big name artists, it's like a party."
Along with being a boost to your college resume, and a chance to learn real world business skills DECA also provides a convenient networking outlet.
"It's so important in this day and age to network, you need it in no matter what industry you go to, so networking is truly invaluable" Zaunbrecher said, "and that's what DECA does all the judges are professionals and its really easy to meet the right people."
The membership dues for DECA are 40 dollars and are due October 12. Meetings are held on Mondays before and after school.