Graphic design receives Apple computers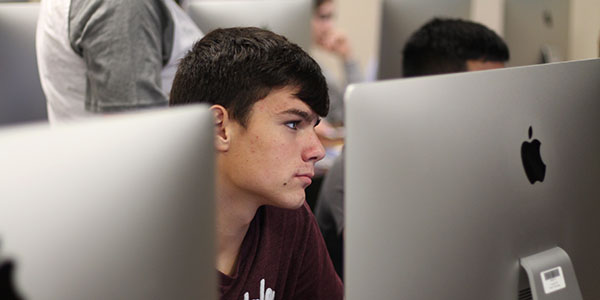 The graphic design class becomes the first class to step out of the past. Apple computers replace the rows of nine year old HP desktops, allowing students to learn in the context of the twenty first century.
Graphic design and business management share the same classroom, so both courses get to take advantage of the new perk.
"The kids were crazy excited when they saw the computers, they were so surprised and shocked," Coach Jessica Mulkey said. "We try to set up the graphic design and business classes to industry level standards which means the work we do is directly applicable to the real world. So the computers are perfect for these courses."
Apple computers provide graphic design students with the technology that most professionals prefer to use in their day to day career.
"The apple computers are around 2000 dollars a piece," Mulkey said. "But they are so worth it, the computers provide the students with technology that is designed for their work, it's a huge upgrade on the older models."
The introduction of the apple computers materialized as a surprise to many in the student body.
"I didn't even know we had them until I saw it on social media,"junior yearbook staff member Kaitlyn Nguyen said. "I kind of wish that we had a little bit of a choice in which class would get the computers but I see why graphic design would need them."
This is the first major update in school technology. Some departments still use computers from the day the school opened.
"Our old computers are slow, so very slow," Nguyen said. "A new update is needed badly, I wish my yearbook class got the update as well."
With the new "Young Sheldon" grant, STEM classes will be receiving additional benefits other than the computer upgrade.
"I'm really excited to see what updates we will get for the future," Senior Autumn Martin said. "I wish this started when I was a freshman or sophomore."