StuCo surprises students with singer to stop bullying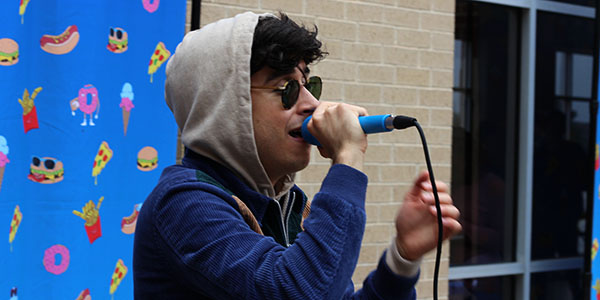 High School Nation partnered with Hollister, the 'Sit With Us' app, and Matt Davis to promote anti-bullying.
'Sit With Us' is an app that lets people who are alone find other people who are in need of a person to sit with.
Matt Davis, a YouTube singer with 89,000 subscribers, sang Bruno Mars songs along with his own originals.
StuCo asked them to visit campus during all lunches to help encourage students to spread positivity.
Hollister volunteers passed out 'Mystery Meet' boxes, filled with Hamburger fanny packs and Hollister discounts, to any student who would write a positive message for the wall.
"I was so excited when I saw that people were getting fanny packs," junior Kaitlyn Nguyen said. "When I got one, I was so happy."
People traded pins to try to get the one they wanted.
"I was trying to get the ice cream pin," junior Kellin Cardenas said.