GSA kicks off No-Name Calling Week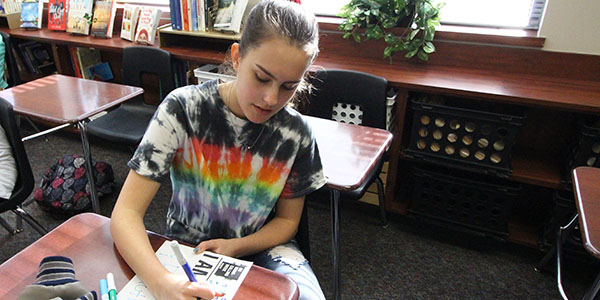 The Gay Straight Alliance club (GSA) is raising awareness about bullying and teaching others how to stand up against it. "No Name-Calling Week" is an annual event created by the Gay, Lesbian, and Straight Education Network (GLSEN), inspired by James Howe's book The Misfits. GSA has taken this idea and turned it into a spirit week of dress up days and activities to show pride while fighting hatred.
"I hope that at some point our school can be accepting of everyone," GSA vice president senior Emily Lucas said," Regardless of sexual orientation, gender, or beliefs."
For those who do not like direct conflict, there are alternatives to confronting a bully one on one, such as confiding in a teacher or lending a supporting hand the victim.
"Personally, I always have a hard time standing up to bullying because I worry about drawing attention to myself," GSA president senior Kaitlin Steiger said.
GSA is promoting the S.A.F.E. Method which stands for saying what you feel, asking for help, finding a friend, or exiting the area. They hope people will become comfortable facing any bully, whether they are the victim or a bystander.
"We want our school community to know that if we unite against bullying, we can overcome it," Steiger said.
First is "T-shirt Tuesday", and students are encouraged to wear their GSA shirt or a rainbow shirt to raise awareness for the amount of in-school bullying related to LGBT identities.
"We are also inviting people to share their involvement using the hashtag #kindnessinaction if they post a spirit day photo on any social media," Steiger said.
Second is "Write a Note Wednesday" where students are encouraged to write a note to someone, whether it be a friend or a mentor, to show they are appreciated.
"We're trying to stop the flow of hatred and replace it with a flow of kindness," Steiger said.
Third is "Take Care Thursday", and the focus on each individual's mental health. GSA wants everyone to know that they aren't alone and many others can relate to them.
"We're showing our community that it's alright to take some time to check in with yourself and engage in activities that will benefit your mental state," Steiger said.
And last is "High-Five Friday". Everyone is invited to draw their heart, identity, or their flag on their hand and give out high-fives to spread cheer and positivity throughout the school.
"Like a lot of people, I have been bullied for a lot of things. For being fat, for being confident, and for being openly pan," GSA historian senior Sophie Hanlon said. "But none of those things are bad."
GSA plans to use this event as a way to start the conversation about bullying.
"I want people like me, who have been judged wrongly, to understand that through pain comes strength," Hanlon said. "We will always be stronger than the ropes that pull us down."
This week is also a chance to talk about how words affect others. Children are taught from a young age to choose their words carefully, and the GSA hopes to continue that lesson.
"Walking down the hallway, it's easy to pick up on so many conversations that, while not having malicious intent, are nonetheless hurtful to many groups of individuals," Steiger said. "This week is a great chance to really think about what you're saying and how, even if it may not affect you, it has the potential to affect those surrounding you."
Although this is the first year GSA has organized a No Name-Calling Week, it will not be the last, as they plan to continue this as an annual tradition. In the future, the officers hope that the event will grow.
"Name calling is something that many people do without even thinking about it. Language is powerful and it's important for people to be conscious of the kind of language they use towards others and the effect of those choices," GSA sponsor Madelyne Lee said. "No Name-Calling Week helps to bring this awareness to light."