Most valuable teachers awarded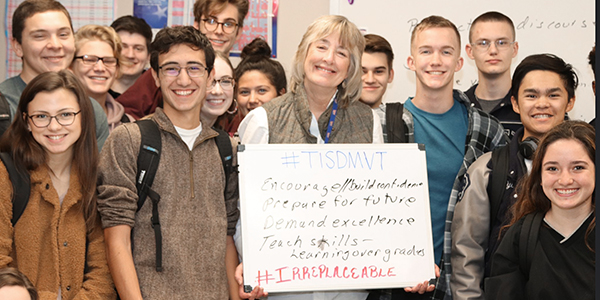 In a new effort to recognize the efforts of our teachers, principal Chad Smith has implemented a new program called MVT, Most Valuable Teachers, to recognize the deserving teachers on campus.
"The HR department wanted us to recognize some of the teachers that just went above and beyond at doing an exceptional job in the classroom." Principal Chad Smith said.
The first round of teachers recognized includes history teacher Paula Temperilli, history teacher Catherine Bellon, Math teacher Christine Kilcoyne, Band director Andrew Easton, and STUCO advisor Irma Sibert.
"I try to focus on teachers that are student centered. They know their students well, they engage their students often and the kids just love being in their class. These are some of the things I look for," Smith said. "We know and can tell just by watching how the students respond to the teachers."
The five selected teachers were visited by superintendent Martha Salazar-Zamora, Chief of Human Talent Jeff McCanna and principal Chad Smith during class time. A picture was taken with their students and teachers wrote how they went above and beyond on whiteboards.
"I was very honored," STUCO advisor Irma Sibert said. "Tomball Memorial is filled with hard working teachers that are here night and day for their students. I'm honored that I received this award even though I know there are other teachers better than me.
Recognizing teachers in front of students was an aspect that Smith and administrators pushed for in the MVT recognitions.
"We came in totally unannounced, we wanted the teachers completely caught off guard," Smith said. "The thing about these teachers is that they want every second of their class time, and that's great, but I'm glad we got in there and gave them the recognition they deserve especially in front of their students."
Though Smith was the one selecting the teachers, student opinion was still taken into consideration.
"The teachers that got selected focus on teaching the student how to do the work and not just memorizing the steps to get to the right answer,' senior Carmela Urdenneta said. "They also care about their students as people."
TMHS ranks top fifty in Texas public schools, and consistently ranks at the top of AP scores and other standardized tests.
"We would not be where we are without our hardworking teachers," Smith said. "We are so happy to have them on campus."