Bearing down on the banner bandits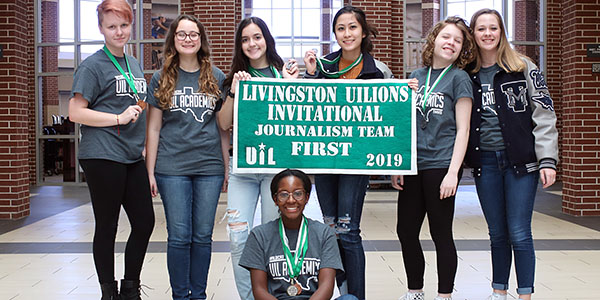 As the announcer gripped the microphone, ready to announce the winners, the team remained calm – already 10 points ahead, there was no way they could lose.
"And the first place team award goes to…"
… they walked towards the stage, ready to collect the banner…
"…Waller High School."
Confusion and shock rippled across their faces, but all of them were too stunned to do anything.
After winning 12 medals in five events, the journalism team expected to take first place at the UIL invitational Saturday, Feb. 16. When a different team was called, they knew something had gone wrong. Once they discovered a calculation error, the team successfully snatched the first-place banner away from the other school.
"I had been adding the points all throughout the day, and I knew what we had scored in the last event, so I knew it was wrong," UIL coordinator and English teacher Janet Stackhouse said.
As soon as the team heard a different school had won, Stackhouse and journalism coach Jill Chumley immediately jumped up to determine what went wrong.
"They were hurrying to the judge's room to check the facts," sophomore and journalism competitor Chloe Carter said. "As they did, all of us students waited near the door as the Waller kids happily flocked to their bus with the banner."
Sure enough, there had been a miscalculation – Waller had not actually won.
"We reached the parking lot just before the Waller bus peeled out of the parking lot," Carter said. "The students were all yelling for Ms. Stackhouse, telling her that it was their bus, that we could still get that banner."
Before students knew what was happening, Stackhouse and Chumley waved down Waller's bus as it pulled out of the parking lot. They walked in, hoping to collect their rightfully-earned banner.
"We have competed with the journalism teacher at Waller for many years, and every time we compete against them, the Tomball Memorial journalism team beats theirs just barely," Stackhouse said. "All she said back to me was, 'We're going to get you one of these days.'"
Meanwhile, the competitors waited from the bus for their teachers.
"The bus erupted into cheers and applause as they climbed back on," Carter said. "It was really cool to see other people being so proud of the journalism department's achievement, and even cooler to know I helped earn the banner."
Because of her quick action stopping Waller before they left, Stackhouse successfully brought the team's banner back where it belonged.
"Janet Stackhouse is the hero here," Chumley said.
The team left with a winning streak of five competitions in a row.
"It felt sort of like the end of a cliché coming-of-age movie, where the underdog team comes comes out on top and everyone finds a new appreciation for them," Carter said.