Dancing the night away to donate for Down syndrome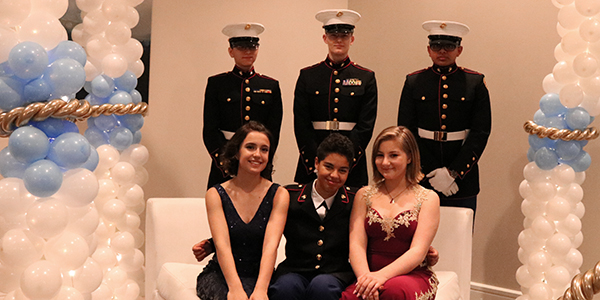 Friends With Down syndrome, a non-profit organization which teaches children with Down syndrome life skills, hosted the Cinderella Ball, an annual fundraising event, at the Red Oak Ballroom March 23 with the help of JROTC. This year, the event raised $20,000 to expand the school that Friends With Down syndrome funds. Everyone worked together to make the night special for kids and adults with Down syndrome, their families, and donors.
Senior Randall Schmalriede, executive officer, ran this event for the first time this year.
"It's my favorite event that we do in JROTC," Schmalriede said. "It's very rewarding to see everyone there, because you can tell it's a special night for them."
JROTC enjoys helping create this night and making the guests happy.
"When you go in there and you meet these people, you build unbreakable bonds with them," junior Miles Smith, platoon sergeant, said.
For five Saturdays before this event, JROTC helped teach the kids proper table etiquette.
"It's a great, fun way to hang out with them," Smith said. "They don't usually get to do these kind of things or make close connections new people."
Color guard, sword detail, and boys in JROTC wear their dress blues, while the girls in JROTC wear ball gowns to this event to escort the guests of honor, who enter the venue and the dance floor in order of who raised the most money.
"The amount of respect I have for the people doing this and putting themselves out there is unfathomable," Smith said.
All guests of honor, called the princesses and princes for the night, wear crowns and tiaras, but by the end of the night only one Cinderella and one Prince Charming are named.
"It's really cool that we can do this for them," sophomore Leila Williams, platoon commander, said. "They really enjoy getting to be themselves and have fun."
JROTC appreciates the chance to create a safe environment for their guests.
"For us to have the chance to meet people who don't have the same privileges as us is eye-opening," junior Dayza Rios, lance corporal, said. "We also get chance to relate to people with different points of view, which is really a great opportunity."