FFA off to State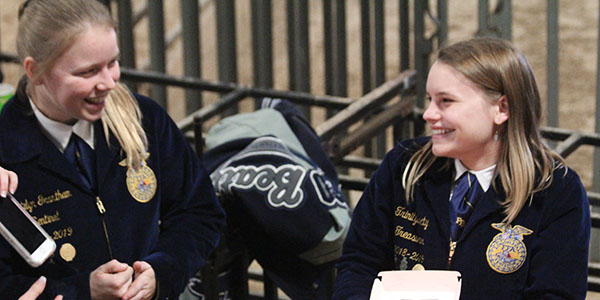 FFA will send three teams to compete at State in Lubbock on Saturday, April 27. Horse Judging, AG Sales, and Wool Judging all advanced and plan to leave early Friday morning.
"We are only driving up that day because there is a clinic to help us out before State," junior Alyssa Brown said.
The students who will compete at State include: Brown, senior Ryan Haynes, freshman Jennifer Keck, senior and Jessika Farthing in Wool Judging; junior Trinity Beaty, junior Brock Murphy, senior and FFA President Grant Williams, and sophomore Grace Williams in AG Sales; and Beaty, senior Katie Costner, senior Katelyn Grantham, and senior Caroline Luciani in Horse Judging.
"Understanding the effort these teams have put in and how much they've achieved makes me extremely proud of each and every one of them and excites me to see what they will achieve at State," Grant Williams said. 
Coaches Theresa Farthing (Wool Judging), Annemarie Mohn (AG Sales), and Jason Thomas (Horse Judging) helped the teams prepare for contests.
"We try to have practice every Wednesday, but within the last two weeks, we've been having practice two to three times a week," Brown said. "We usually go over our scores from the contest before to see what we did well and poorly on."
Most of the contests involve testing the students' knowledge in a specific agricultural area. Wool Judging, for instance, entails six rotations between four classes of wool and six rails, as well as questions that go along with each part.
"They put out bales of wool from after shaving the sheep," Brown said. "There are different classes of it. There are four classes of different kinds, and there are full bales of wool in every class. You have a list of questions for that class, like 'Which one is the nicest, coarsest," and then you have to list them from heaviest to lightest."
The maximum score in Wool Judging for an individual is 700; for the team, it is 2100, or the combined score from the three best competitors out of four.
"We are just happy we made it to State," Jessika Farthing said. "We were yelling in the car, because we were waiting for the scores to upload online. None of us had checked in a while, and then my friend checked and said, 'We made it to State.'"
AG Sales combines students' business sales and marketing knowledge on the individual and team levels.
"We are given a product at the beginning of the year and we create a binder and presentation for the product," Grant Williams said. "We attempt to sell this product during our individual sales."
This was the second year in which Wool Judging competed, and this round of competing allowed the AG Sales team to advance to State after missing out by one place in another contest for AG Advocacy earlier this year.
"Whenever we found out that we made State, we were all extremely excited," Grant Williams said. "Our experience made advancing in AG Sales that much more significant and exciting."