Project Prom to offer seniors prizes, fun time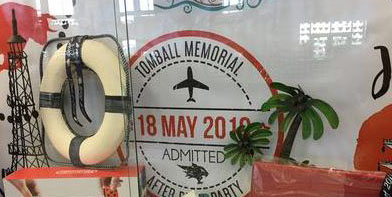 Project Prom, the after-prom party organized by the Senior Parent Organization (SPO), will take place on Saturday, May 19, from 12:00 a.m. to 5:00 a.m. at Main Event in The Woodlands. This year's theme is "Passport to Adventure."
"The event includes all food, activities, and great prizes," SPO President Laura Van Dyck said.
Prizes include laptops, video game consoles, cameras, high-value gift cards, and more. Seniors voted through a survey for Mexican food to be served.
"There will be a raffle for these big prizes," SPO member Magda Craige said. "Every senior in attendance will have their name entered, and then they can choose their own prize."
Seniors can register online here, and if their date is not a senior on this campus (includes underclassmen as well as people from other schools), dates can register here. Seniors do not have to attend prom in order to go to Project Prom.
"When registering, please enter all your information," Craige said. "Be sure to put your legal first and last name, so that we can find you more easily on our list of seniors."
Project Prom is free for the graduating class of 2019 but costs $40 for non-seniors.
"If your date is coming, be sure to have them put your entire name, too," Craige said.
Activities offered at Project Prom will include: laser tag, bowling, pool tables, darts, arcade games, virtual reality games, a photo booth, and several raffles throughout the night. Students can earn more tickets for the raffle by taking part in the activities, thereby increasing their chances of winning a grand prize.
Students can arrive at Project Prom by bus, car, or limo. The distance from the prom venue, The Woodlands Resort, to Main Event is about 4 miles and will take around 10 minutes. Here is the route.
"I helped plan prom," senior class treasurer Allie Pearson said. "I wish the theme would have been 'Under the Sea,' but it's 'Roaring Twenties.' We would have had someone dress up as Sebastian the crab."
Since the event is a lock-in, students cannot leave early, even their parents are volunteering at the event (and parents can only volunteer if they are SPO members and have completed the TISD background check). Students will leave Main Event around 5 a.m. on school buses for TMHS, where parents can pick them up.
"This makes sure that no one is driving when they are very tired," Craige said. "We want to keep the kids safe."
For more information about Project Prom, go here.