Class meetings kick off the year with modified bell schedule
Ore James, Online Editor-in-Chief
August 23, 2019
Class meetings will take place next week from August 26 to August 29. Freshmen will meet on Monday, sophomores meet on Tuesday, juniors meet on Wednesday, and seniors meet on Thursday.
In a change from previous years, all grade levels will follow a modified schedule to accommodate the meetings from Monday through Thursday, with a pep rally schedule on Friday for the Patriotic Show.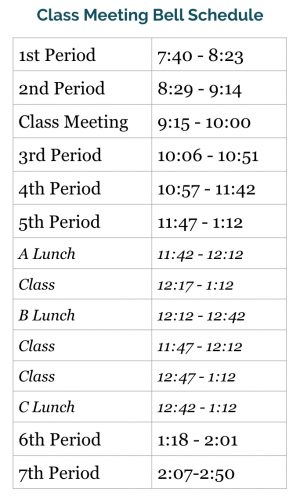 As each grade level attends a class meeting, the other three will hold in second period to watch required videos.
"Grades not meeting will be shown state-mandated information," principal Dr. Mike Metz said. "On Thursday, freshmen, sophomores and juniors will learn about dealing with police, and Monday there's a video on the dangers of texting and driving."
In the past, class meetings for different grades took place on various days, often later in the school year.
"Before, kids would have to miss class," Metz said. "We've changed it so no one has to miss a period."