District prepares to start campus construction
Long-awaited school construction is set to occur in the near future following a decision from the TISD Board of Trustees to expand the school. The district expects to begin construction bids in October. 
Construction is currently underway for a new district football stadium, set to open in time for the 2020 football season, and two new TISD schools. Campus construction, on the other hand, will occur in multiple phases, with plans to finish by August 2021.
"The school is going from 350,000 to 520,000 square feet," associate principal Kevin Williams said.
"
There's going to be new classrooms in the science, English, social studies, career and tech, math, and special education wings."
— Associate Principal Kevin Williams
The additions will occur on the exterior of the school, rather than the interior.
"It will not disrupt our school day at all since no parts will be closed off,"  Williams said. "There might be some exits redesigned, but we're not there yet."
In addition to gaining new classrooms, many different departments will have new places to work and learn.
"There's going to be new classrooms in the science, English, social studies, career and tech, math, and special education wings," Williams said. "All of those places are getting touched on."
Along with the much needed classrooms, major athletic spaces are also in the works. 
"We're adding the swimming center to take care of our needs for our swim program,"  Williams said. "There will be an expansion in the locker room and another third gym that's going to be used by multiple organizations."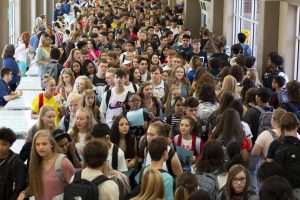 All these plans are facilitated by one thing – student growth. As of right now, there are 2,407 students in school, with a large freshman class of 660 people. Administrators understand that the school is overcrowded, and are working to take care of this issue.
"We have so many kids," Williams said. "When you see the number of students in portables, it is clear we need expansion for the classrooms to accommodate the number of students we have at our school."
The company responsible for construction will be bid out, meaning when the plans are finalized, a company will bid to do the job. Bidding is tentatively set to begin in October.
"The response is fairly positive," Williams said. "But it's something we are all going to grow into."
Alongside additions in the school, the district is currently clearing land for a TISD community complex, which will include an elementary school, junior high school, football stadium and community center.