'Friday Football Fever' broadcasts school spirit for playoffs
Ore James, Online Editor-in-Chief
November 27, 2019
When most students signed up for clubs as wide-eyed freshmen, they knew it would take commitment – the long hours in the dance room, the sweat after a grueling band practice, the tense moments perfecting a cheer routine.
Luckily for these students, these long hours paid off one bright and early morning when their commitments earned them their 15 minutes of fame.
To highlight the football team before the second round of playoffs, local TV news station FOX 26 featured Tomball Memorial in a segment on Friday morning, with students from band, cheer, ROTC, Student Council, Navy Empire and the drill team supporting the team in an informal televised pep rally before school.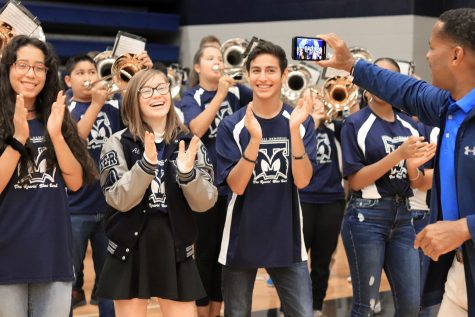 The broadcast was part of 'Friday Football Fever', a weekly FOX 26 segment which highlights the school spirit of various Houston high schools before a football game.
Though the final segment lasted just a couple of minutes, those involved stayed in the small gym from around 6 a.m. to 7:15 a.m. to rehearse and film. Students and faculty received quick instructions from the news crew on what to do and say during the broadcast.
"First, the reporter had us run toward him with a camera while we were shaking our poms, cheering and jumping, and he made our captain Caroline say a few words about how we're proud of the team," junior and drill team member Anais Colin said. "Then as the band played "Uprising" we did our stand routine to it."
Colin and other students involved learned of plans for the broadcast on Wednesday, with the news coming as a pleasant surprise to both faculty and students.
"I got an email from fine arts director Mr. Janda on Wednesday saying that it might be a possibility," band director Andy Easton said. "A few minutes later, I got a phone call from Dr. Metz, he and I talked through it and decided that it would be a good thing for our school to do."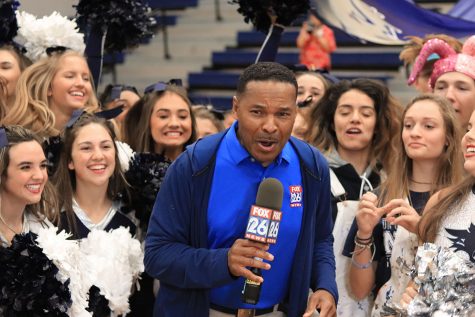 After learning they would appear on television, however, students quickly discovered a less glamorous fact – students needed to get to school much earlier than usual for the broadcast, with members of the band arriving at 6 a.m. and members of the drill team arriving at 5:45 a.m.
"I think the adrenaline kind of took over when I woke up, but during the day I was tired," junior and band member Aeryn Yeiser said.
For students involved in the segment, disdain for such an early arrival time mixed with overall excitement for the broadcast.
"There was a little bit of dread because everyone knew it was going to be a really long day," Colin said. "We'd have to wake up around 4:45 a.m. and go to sleep at 1 a.m. because of the game, but mainly everyone was just excited."
Though it required waking up uncomfortably early, most students felt the broadcast provided a unique, energetic experience.
"It's cool to see how TV works," Colin said. "It was really exciting to see our faces on TV."