German Club celebrates Saint Nicholas Day
From shoes filled with candy to a demonic goat, members of German Club embrace German holiday traditions at their Saint Nicholas Day social.
On December 6, millions of people in Germany and a group of students in German Club will celebrate Saint Nicholas Day. The German Club will host their first ever Saint Nicholas Day social in German teacher Brenda Bauske's classroom after school, where members will enjoy festivities based on German holiday traditions.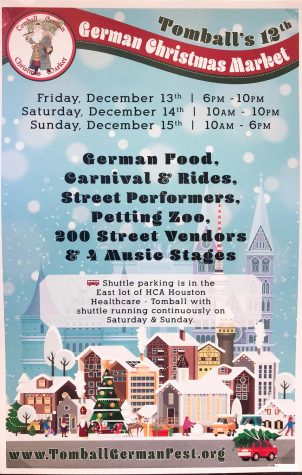 "In Germany it's a tradition that kids would leave shoes by the door on Saint Nicholas Eve, and in the morning they'd be filled with candy," German Club president Holly Luebsen said. "It's like stockings, but with shoes. We're going to do something similar, where the members will leave shoes by the door and find them filled with chocolate at the end of the social."
During the social, club members will watch Krampus, a fantasy horror film about an evil, goat-like monster from Central European folklore.
"The Krampus is kind of like the Grinch, except more evil. The story is that if kids were bad, the Krampus would take them away during the Christmas season," Luebsen said. "Frau Bauske has a costume, so someone is going to dress up as the Krampus and visit the classroom."
The German Club is also participating in the Tomball German Fest, which will be held in Old Town Tomball on December 13, 14, and 15 and feature music, food, vendors and other entertainment.
"Later in the month we're going to the German fest and telling stories in German to little kids," Luebsen said. "We'll go out and read them fairy tales using posters so that they can understand."
This is the club's first time to host a Christmas social, and they invite any interested students to join them for the festivities.
"We'll watch the movie with German food and drinks," Luebsen said. "The social is for German club members or anyone who feels like coming."