Two new counselors join TMHS
At the beginning of the school year, Tomball Memorial administrators welcomed two new Wildcats into their pack.
Her middle school peers knew her as "The Vault". We know her as Mrs. Buttram. And students with last names P- Th know her as their dedicated, caring school counselor. Jennifer Buttram, who got her unique middle school nickname because her friends knew they could confide in her with problems and secrets, is replacing Sharena Coffin after the latter returned to her previous job at Willow Wood Junior High.
Buttram obtained her bachelor's degree in psychology and education and her masters degree in school counseling at the University of Tulsa. She worked as a college admissions rep and college recruiter before starting her career in counseling. After that, she never looked back.
"This is my 15th year as a high school counselor. I worked at Edison Preparatory High School, Coweta High School, and Commerce High School," Buttram said.
Her inspiration to become a counselor came very early on, when she was a student in elementary school. While most kids spent recess playing tag or conquering the monkey bars, Buttram preferred to help her fellow students deal with their problems.
"I remember being on the playground in third grade, walking around with my friends and trying to help resolve issues so they didn't fight," Buttram said. "From that early on, I was always the peacemaker."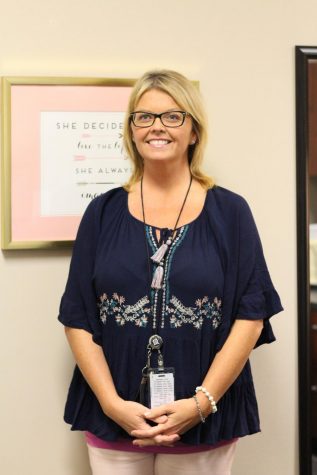 Buttram recently moved from Oklahoma to Tomball in order to live closer to her sister and nieces. After that, her sights were set on TMHS.
"I wanted to work at Tomball Memorial because of the great reputation the school has, both community-wise and academically," she said.
So far, life in the Navy Empire is living up to Buttram's expectations. She's enjoying her new job, especially interacting with the students.
"I love that no two days are the same," Buttram said. "I love working with students, and I love when they share things with me. I like being able to be here for people."
Outside of work, Buttram's favorite pastimes include checking out restaurants that serve authentic Mexican food and chilling with a good Netflix series to binge. She also enjoys supporting her two nieces by cheering from the stands of their various sporting events.
"I really like watching my nieces' swim meets and basketball games," she said.
Buttram is looking forward to building relationships with her students, and she wants to make sure they always have a safe place at TMHS.
"The most important thing to me is that they know this is a judgement-free zone," Buttram said. "It's a place where they are cared for and loved.
Buttram isn't the only new Wildcat on the block. Counselor Erika Zeno replaced Angie Wartick- who moved to Kansas last summer- as the counselor for students with last names K-O.
Zeno received her bachelor's degree in psychology at the University of Louisiana at Lafayette and then got a teaching job at Carl Wunsche High School. She was halfway through her third year of teaching when a realization struck that would change her life- or at least her career path.
"It just kind of clicked. My students started to come to me with problems, and then other students who weren't mine started coming to me as well. So I eventually decided that I would get my certification for counseling," Zeno said.
After obtaining her masters degree in experimental psychology at McNeese State University, Zeno was a counselor at Carl Wunsche High School for two years before deciding she wanted to work at Tomball Memorial High School.
"I've heard great things about TMHS. People in the district would talk about how wonderful it is, and once I had the interview, I knew this was where I needed to be," she said.
Zeno has readily taken on the many responsibilities of being a counselor at TMHS, which involve much more than just handing kids tissue boxes.
"We make the schedules, check credits, and aid students with special services. As far as the social and emotional side of it, we do one-on-one sit-downs with students. I try to give them tips and tricks for how to cope with things," Zeno said.
When she's not hard at work making life better for the students of TMHS, Zeno enjoys spending time with her young daughter. She also has a hobby of doing makeup, and enjoys finding opportunities to work her magic on friends and former students.
"For my former students I do makeup for prom or homecoming, if they can't afford to get it done," she said.
Zeno's favorite part of her job is making connections with students, and she hopes that these connections will have a positive impact on not just their school experiences, but their lives as well.
"I think the main thing that I want my students to take away is that they have someone on campus who really, genuinely cares," Zeno said. "Not just about their academic success, but their overall success as a person. Even after high school, they have someone who will cheer for them."