Writing her way to the top
Junior wins prestigious award from Scholastic
After submitting a poem to Scholastic Art and Writing in November, junior Grace Yin earned recognition as one of five nominees in Harris County for the American Voice Award. Out of 3,000 pieces in the region, only five from all categories and grades are selected from the Gold Key winners.
"It's wonderful," AP English III and Seminar teacher Canita Lee said. "I'm super proud of her. She's a very thoughtful, creative student, hardworking, and is very deserving of this sort of recognition."
Yin was recognized for a poem entitled "Birds." Yin wrote it thinking back on her life as a child.
"
It's one of those things where you should be happy with who you are now because who you grow up to be should be proud of you."
— Grace Yin
"I was 5 or 6 at the time and my dad used to travel a lot and my mom would send him to the airport," Yin said. "They would take me with them because my parents didn't want to leave me home alone. It was a lot of being half-asleep at 12 in the morning and watching the street lights or watching the street lights in the highway pass by."
For Yin, it's an extremely nostalgic piece and one that reflects back on good times for her. She wants people who read it to ask whether the past versions or past experiences of themselves would be proud of the person they are now and if they will still be proud of themselves in the future.
"I think I wrote it as sort of thinking back on cringe culture," Yin said. "In junior high especially, everyone is like 'oh yeah everything I did as a kid is dumb,' and I think that's a bad way to look at your life. You should be proud of things that you did even if it was childish.
On March 16 the nominees will find out whether or not they medal nationally. The nominees who medal are selected by a panel of judges in New York City. Surprisingly, Yin hasn't given herself the chance to think about winning.
"I don't want to set my expectations too high," Yin said. "I think I'd be shocked. It'd honestly be really humbling because the idea that my work could mean so much to someone that they would give it an award like that."
About the Writer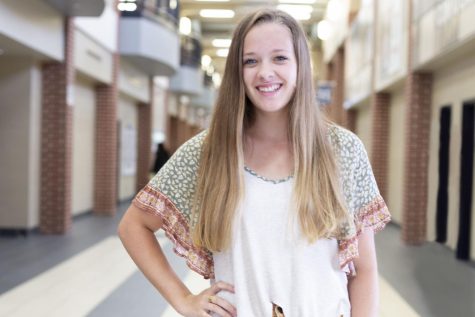 Abigail Cannon, Staff Writer
I'm a senior and this is my first year as a writer for The Post.  Besides being in newspaper, I am a member of the Roarin' Blue Band Color Guard.  In...