SAT issues and cancellations halt student testing plans
While many seniors plan for SAT retakes before applying to colleges, pandemic closures have prevented many from testing this fall. Testing centers have continued to cancel on a lot of students, and while Tomball Memorial is not planning for a cancellation, it is still possible.
"Anything is possible as we found out last year, and we have to make sure that we prepare for all situations," testing coordinator Jade Lopez said. "This could absolutely happen for TMHS but we are not planning for that."
Tomball High School and Lake Creek High School both canceled their August 29 SATs, which were supposed to be the first tests offered since March, and many other testing centers have continued to do the same.
"The testing centers I was looking at were some of the Cy schools, Cy Creek and Cy Fair," senior Esther Park said.
Recently, more testing centers have been available, but some students have experienced seemingly random cancellations that leave them currently unable to retest.
"My SAT canceled six days before I was supposed to take it in October and I have been trying to find a way to take it ever since," Park said. "All testing centers are closed that I know of and I have been trying to take my test since April."
After back to back rescheduling and cancellations, students have tried to stay positive while adjusting to this situation.
"It was weird trying to make room in my schedule but after a while, it was more like, can I take the test now," senior Daniel Ramirez said.
Many colleges are waiving their entry exam requirements for the 2020 application cycle, but to many, students still need a score they are happy with.
"
All testing centers are closed that I know of and I have been trying to take my test since April."
— Senior Esther Park
"If you are able to retest, then please take it," Lopez said. "In the English wing, there is a poster providing SAT dates so look at that, and look at collegeboard.org to keep up with dates and rescheduling."
College Board is active on Twitter and posts updates about retesting. Seniors can also look at different testing centers slightly out of the area to see if any are still open.
"If the testing centers are open, which honestly they probably will not be, then I will redo my test, but for now I am just focusing on the other parts of my application," Park said. "I am very fortunate because I want to get my bachelor's degree in acting and 50% of my application is my audition and it is not very focused on academics."
Colleges look at all aspects of the student applying, not just the entry exam, so keeping grades up and working on other parts of applications is strongly advised.
"Seniors need to keep their grades up and get involved with whatever organizations that are best for them," Lopez said. "They can also go to Khan academy, which is the official College Board practice website, and different tutoring centers around our area to look for more information."
About the Writer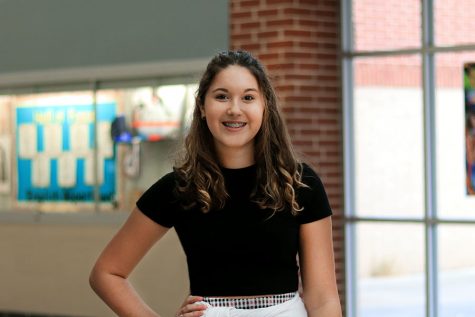 Veronika Boyrie, Staff Writer
Hi! My name is Veronika and I am a sophomore. This is my first year in journalism and I am really excited to write for the newspaper.  I spend a lot of...