Teachers receive vaccines as Harris County continues Phase 1B
Harris County officials began Phase 1B in early January for distribution of COVID-19 vaccines, which prioritizes teachers and educational staff. Distribution is taking place in public areas, making the process smoother.
Phase 1A included healthcare workers while 1B is focused in individuals 65 or older and those with chronic medical conditions. Teachers along with seniors in congregate living settings are being prioritized in Phase 1B.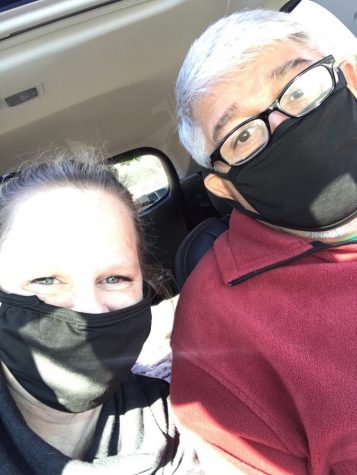 "It was very easy," journalism teacher Jill Chumley said. "I drove up to the drive through with my printed QR code after I made an appointment online. There were several healthcare workers there, and even an ambulance."
School districts across Harris County are also working with superintendents to vaccinate teachers who qualify in Phase 1B, as they come in contact with students in classrooms everyday.
"I received the link to get the vaccine through Tomball ISD," Chumley said. "It's hard to be stuck in a room full of students while being aware of COVID because you don't have the time to stop everything and leave to wash your hands."
Since the beginning of distribution, some have felt apprehensive about experiencing the first dose.
"I was extremely nervous," English teacher Tancy Juliano said. "I am allergic to the flu vaccine, so I was worried about having a reaction to this one as well. I spoke to my doctor beforehand and she said I could have the same type of reaction, but very rare. I have received other vaccines for traveling outside the country, and never had a problem, so, I decided to go for it."
Some people are relying on the experiences of those who've already received it to decide whether to take the vaccine or not.
"The rate of production and unknown effects make me anxious," TSVI (teacher of students visually impaired) Wendy Lewis said. "I am still undecided."
The vaccine's aftereffects vary from each individual. Most have had no symptoms while others experienced symptoms the day after.
"About 24 hours after the shot, my arm got sore and a bit 'knotty' in the injection site," Juliano said. "I followed advice when I kept it warm and massaged the injection site, but it did hurt."
Many who've received it recommend taking the vaccine when available.
"I would recommend everyone get the vaccine as soon as they are able," Juliano said. "It is important for our population to be immunized and safeguarded as quickly as possible."