German students earn national recognition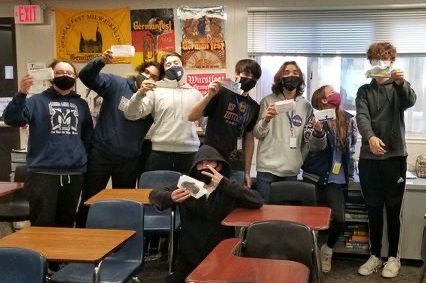 This week, four German students were recognized by the American Association of Teachers of German for scores on the National German Exam.
Sophomore Kurt Bauske earned a gold medal, sophomore Ella Carr earned an achievement certificate, junior Haley Kilcoyne earned a silver medal, and junior Sebastian Reyes-Terrazas earned an achievement certificate.
Additionally, after participating in the Houstonfest regional German contest Feb. 6, eleven competitors qualified for the state contest.
"This year was also difficult because the contest was virtual and students had to make recordings and submit all of their entries virtually with many hoops to jump through," German teacher Brenda Bauske said. "But the students were all go-getters, attacked the task, and followed through with gusto."
Houstonfest awards include:
German 1 students: Brietling Wharton and Reagan Lloyd – 2nd place Poster Design
German 2 student: Halleigh Perek – 5th place Doll Costume
German 2 TAP students: Madison Johnson – 1st place Poetry Reading Level 2; Hayden Landry – 2nd place Poetry Reading Level 2; Ella Carr – 4th place Poetry Reading Level 2; Kurt Bauske – 3rd place Prose Reading Advantaged, 4th place Poetry Reading Advantaged
German 3 TAP students: Hannah Jones – 5th place Poetry Reading Level 3; Sebastian Reyes-Terrazas – 2nd place Poetry Reading Level 3; Kaleb Ortega – 2nd place Poetry Advantaged
German 4 AP student: Douglas Haddad – 1st place Poetry Reading Level 4