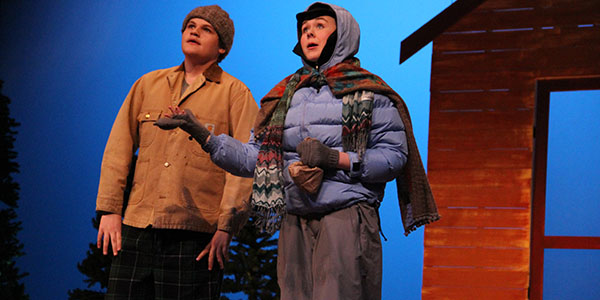 Almost Maine is an entertaining and enjoyable show that delves into the different types of love symbolism in small short stories. In each story, a different couple is introduced with a different scenario each time, whether it's about break ups, finding something you didn't know existed, or re-discovering something.The plots also give a large amount of humor from its characters and settings, making each story fresh and new.
The cast for the show is large and brings a great sense of energy to the overall production, giving great facial expressions and body movements that can almost make any scene believable and funny. The characters they play each have their own unique personality and backstory that makes them interesting, and their interactions with the love, ex-love or love to be, makes the love between all of them seem genuine.
The sets that were built for the production were incredibly well built and obviously had a lot of well placed work put into it. Some of the sets were built for specific scenes, and the main stage was used in multiple ways to go with each scene the special effects, such as sound and lighting, set the scenes well and created a fantastic atmosphere that drew in the audience.
The remaining days for the play are Nov. 14,15, and 18, so come and enjoy the romantic comedy that will make you laugh and awe throughout the night.