Once On This Island Review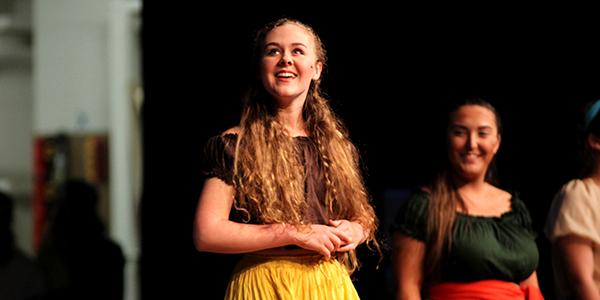 Two star-crossed lovers destined by the gods to be together for all eternity is typically the synopsis of romantic productions; however, Once On This Island delivers a very profound twist to the typical theme of romantic performances: Love can conquer all.
The backdrop of the play is that of a small Caribbean island, which was executed perfectly by the stage crew. Although the set was rather simple compared to other productions, the dynamics given were superb. The lighting, fog and sound effects made up for the lack of decoration. All of those who worked backstage did a great job to stay in sync with the actors on stage.
Every actor had great vocals that could be heard from the back rows of the auditorium. Junior Alyssa Cisneros, who played Asaka, gave a phenomenal vocal performance that absolutely shook the audience. Her pitch and tone carried throughout the auditorium and gave goosebumps to everyone listening. The casts' hard work and training clearly paid off.
The makeup crew did a perfect job decorating all actors, especially Papa Ge, the Demon of Death. Papa Ge, played by senior Nick Ysa, his face and body makeup were scary enough to be suspenseful but still child friendly and not gorey. As well as Papa Ge, every peasant was covered with different tones of foundation to simulate dirt. The entire cast had some make up aspect and the effects crew nailed it.
To accompany the strong acting and setting, the band performed a diverse set of scores to give suspense to the intense scenes and uplift the audience during the dancing scenes. Both the band and actors were harmonized to make the transitions between scenes seamless.
Overall, Once On This Island gives the audience a surprising twist to the typical romantic production and is definitely not a show to be missed.