5th Annual Night of Percussion Review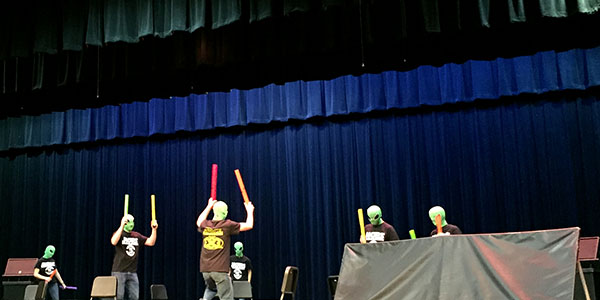 On Saturday, the percussion department hosted the 5th annual Night of Percussion Show, emceed by band director Chris King. The show consisted of performances from the elementary, intermediate, and junior high schools, as well as the high school.
Canyon Pointe Elementary's Bell Choir performed first. The use of bells was very cute and different! It was enjoyable seeing the nine year olds happily play. Oakrest and Northpointe Intermediate both played drum pad pieces. They made great use of the pads by also playing on the stands of the pads to add more sound.
Willow Wood Junior High's concert, symphonic, and honor band percussionists played tunes as well. The honor band performed their superior rated piece from contest this past month. The junior high's also played a piece called Heads Up! where they played on chairs and drum heads. The steel band played as well. It was nice hearing the different sounds from all the percussionists.
The high school percussionists played tunes related to the theme of the show; space. They opened up their set with a half-lit performance playing 'A Mallet Oddity.' A really interesting and beautiful piece was 'Always,' which featured the wind symphony percussionists, cello player Pakriti Baregala, and singers Maddie Mackey and Casey Pessarra. Chris King conducted the piece and his father, Richard King, played the piano. It was a very emotional and touching piece, with Mackey and Pessarra's singing adding an angelic feeling. Seniors Pessarra, Elizabeth Hamilton, and Natalie Sanders played a woodblock trio and were then rewarded with thank you note drum heads.
A really fun performance was one by the 'Boom-Crack-a-Lackas,' a group of percussionists who played on objects, including chairs and each other's heads, with boom sticks and wore alien masks while doing so. The crowd enjoyed it very much and it was evident that the percussionists were having a great time.
The finale was my favorite part. The high school percussionists got together to play 'Space Voyager' in the dark with backlights. The auditorium was lit with colorful lights and the music sounded wonderful! Everyone loved seeing the percussionists dance while glow sticks were being thrown around the stage.
The Night of Percussion Show was a very successful and enjoyable one. It was great watching students do what they love in creative ways.