UIL One Act "The Importance of Being Earnest" Review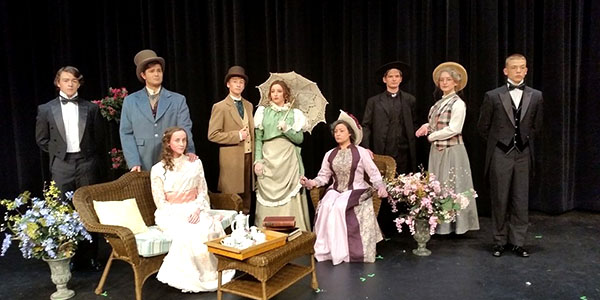 Confused, the audience attending theatre's UIL One Act play observed the empty, undecorated stage, until theatre director Bryce Ballew came to explain the absence of a set. This performance was unlike any other main stage show of the year, in that the set was constructed, utilized, and striked all in a matter of 40 minutes, much like it had been in the actual contest. Obviously, the audience was very impressed.
The show began as the cast and crew worked together to construct the set in less than five minutes, under the watchful eye of Stage Manager Marilyn Wechsler. Once they had confirmed with each other that the set was fully prepared, by raising their empty hands as a signal, the performance began. A similar process ensued following the performance, when the cast and crew striked the entire set in the same amount of time.
"The Importance of Being Earnest", by Oscar Wilde can be considered a difficult feat for actors and actresses, but one wouldn't know by how easy the cast of the UIL one-act play made it look. The show follows two young men, both pretending to go by the name of 'Earnest', vying for their love interests' hearts, with challenges including skeptical mothers, unknown family histories, and, finally, their true given names. Junior Craig Caldwell and senior Nick Ysa engaged in witty banter, using comedic accents, while sophomores Alleese Eldridge and Delanie Kitzman challenged each other while still managing to remain prim and proper in appearance and phrase. Meanwhile, the audience caught hint of a romantic relationship between the tutor and the priest, played by sophomore Liz Grobe and senior Nathan Farmer respectively.
The costumes of the play, by Ally Carnahan and Darian Hammond, were beautiful, from flowing dresses for the ladies, to pinstriped suits and top hats for the young men. Similarly, the makeup added to each character, convincing the audience that some of the actors and actresses were quite older than their true age.
Overall, the production was very well-coordinated, and provided a nice balance between romance and comedy.