Silver Stars Shine 2016 Review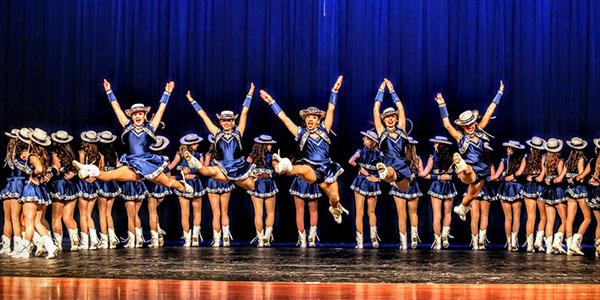 Last Friday and Saturday night, the Silver Stars presented their fifth annual spring show, hence it's title "Ⅴ", the Roman numeral for the number five. The theme provided a flashback into the drill team's past, a look at their most current routines, and their expectations for the future.
The curtains opened to a compilation of the Silver Stars' most memorable performances, including combinations such as the jazzy "Love Runs Out", hip-hop "Girls Run the World", and more, all to the upbeat tune of "I Wanna Dance With Somebody". The contrast of each different costume emphasized the history and accomplishments of the team. The show continued with the entrance of the current "Voice of the Silver Stars", who introduces the team at football games. His monologue was interrupted, however, by the past voice who began to quiz the other on his knowledge of the Silver Stars.
One of the most impressive performances of the night was the Silver Stars' tap routine to the iconic song "Footloose". The dance began with only the girls' feet tapping beneath the curtains, and was followed by a buoyant combination with just the right amount of a southern twist. There was also a lyrical performance from the Silver Stars dance officers, with gentle but very beautiful choreography. There were several solo performances by the award winning Silver Stars, including junior Alise Rhodes' "Near Light". Rhodes' solo stood out in that, even though she was blindfolded, she still managed to execute every turn and leap next to perfectly.
Other notable performances by the Silver Stars included their jazz competition piece, "Start a Fire", and their powerful hip-hop routine "Grown Woman", which both carried a lot of energy that was exciting for the audience.
Guest appearances were made by dance studios Koenig and Cypress Elite, Willow Wood Junior High, and Ohana Dance Crew. Each of which made their own contribution to the show. There were also performances by Silver Star director Samandra Nail's second, third, fourth, and fifth period dance classes. Second period, especially, blew the audience away with their great facials and vivacity, not to mention their metallic silver costumes. Finally, the Silver Studs preceded the Silver Stars' final performance, making the audience laugh with their imitations of the Stars' most classic moves.
The grand finale did not disappoint. The Silver Stars ended the show in their classic blue and silver costumes and boots, with a kick routine to "Good To Be Alive". The girls legs reached their faces, and their smiles never faltered. The emotional effect of the dance was furthered by the fact that it was several seniors' last performance.
Overall, the show was very well orchestrated, and achieved its theme of celebrating the past, present, and future of the Silver Stars brilliantly.