The 39 Steps Review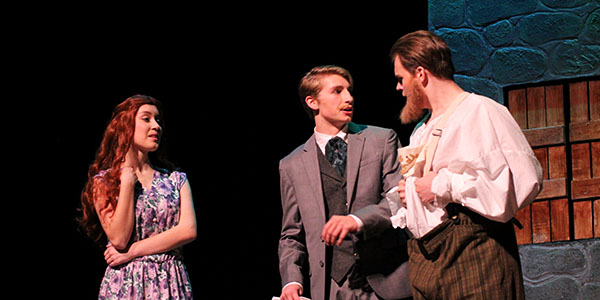 The 39 Steps wowed me and is my favorite production from Wildcat Theatre so far. I thoroughly enjoyed this show from start to finish. As soon as the curtains opened and Craig Caldwell began his character's opening monologue, I knew that this show had many hilarious surprises in store. It was intriguing from start to finish.
The story, staged in Britain, centers on the character of Richard Hannay. After he meets a mysterious woman who tells him that she is a sought after spy, he brings her home, only to wake up a few hours later and find her murdered. A manhunt begins for him as everyone believes he is the one who murdered her, when in actuality, the murder was committed by the secret organization The 39 Steps.
Hannay's run from the police is hilarious throughout the story, as he travels all across Europe and ventures into Scotland. One of my favorite scenes was when Hannay attended a show in London for the performer Mr. Memory. Throughout Memory's show, police officers walked through the audience and asked audience members if they knew where Hannay was. Peyton Hines, who played one of the officers, approached my friend and I with her flashlight and caught us by surprise. I enjoyed the audience interaction very much. Another one of my favorite scenes was when Hannay was escaping London by train and managed to get away from the police's reach by climbing out of a window and on top of the train. I commend Caldwell's dedication to his role; I have not seen stunts like these in a show by our theater department before.
The set was also very impressive. The tech crew did a wonderful job with putting together realistic backdrops, such as the hotel Hannay stayed at, equipped with a flashy sign. Overall, I was thoroughly impressed by the cast and crew of The 39 Steps and recommend this show to everyone. I am awed by my fellow Wildcat's talents and am excited to attend more shows throughout this year.