13 Reasons Why Takes High School By Storm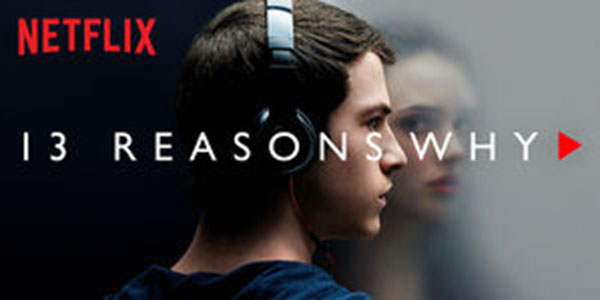 Netflix's 13 Reasons Why has taken the school's staff and students by storm. Since its March 31 release, over hundreds of thousands of people have streamed the show and finished it within days.
"I read the book, so I got excited when it was announced that it was becoming a show," freshman Sanna Apolskis said. "I started watching it the weekend after it came out."
The show is a new Netflix original series based on the 2007 novel written by Jay Asher. The story is about the short life of Hannah Baker, a high school junior that was bullied to the point of suicide by her peers.
"Watching this show made me realize the things that I say and do to others can weigh a lot heavier on them than expected," senior Hanna Homer said.
Many of the scenes in the show are considered raw and hard to watch. The show goes into depth of what happened to Baker, and what happens all the time in real life.
"I had a very hard time watching the last scene," journalism teacher Jill Chumley said. "It made me think about how the little things kids do can impact others greatly without them realizing it."
According to CDC WISQARS, suicide was the second leading cause of death between the ages of 10-24 in 2015. The Jason Foundation states that suicide causes more deaths in teenagers than cancer, AIDS, heart disease, strokes, birth defects, pneumonia, influenza, and chronic lung disease.
"I don't think suicide is discussed enough," junior Caleb Janz said. "A lot of students don't realize the consequences of their actions; in this case, 13 actions caused a girl to commit suicide. People need to learn to filter and think about what they say."
According to CNN journalist Jacqueline Howard, this show has made health experts speculate an increase in suicide rates due to its major influence it has on teens. Others disagree with that statement, saying the show is a good tool to discuss suicide.
"Suicide is not a joke," junior Rachel Roth said. "I believe people who have committed suicide think they have nowhere else to go and that nobody loves them. People don't realize the impact of their actions and neither do the people actually harming themselves. After someone is gone forever, nothing is ever the same."
Whether they believe this show is positively or negatively affecting teens, students feel they should still learn to watch the things they say to others.
"I will try my best to watch what I say and try to say everything in a nice manner so that I don't affect someone negatively," Homer said.