Looking Back on Sister Act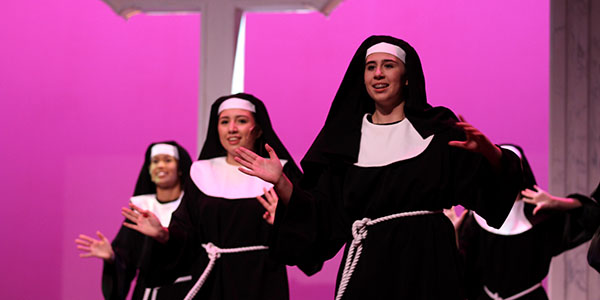 The collaborative musical, Sister Act, involved the efforts of the theatre department, choir, band, orchestra and the Silver Stars.  Encompassing two acts and about three dozen songs total, the show sold out twice.  The musical originated in a 1992 film, starring Whoopi Goldberg as the lead role of Deloris van Cartier — played by sophomore Julie Chacon in this semester's production.  Other students in leading roles included junior Adelynn Franklin as Mother Superior, junior Carlos Pizarro as Officer Eddie Suther "Sweaty Eddie," Harli Daniels as Sister Mary Robert and senior Aron Olivares as Curtis Jackson.  Band director Andy Easton conducted the joint band-orchestra ensemble in the pit, which featured about 30 students and staff, as well as a hired drummer and pianist.  
Overall, the musical was amazing, from the singing to the dancing and acting.  It was so easy to see how much every single person involved enjoyed performing, because it translated into the delivery of every line and the hit of every dance move.  All their long hours and months of hard work in preparation paid off, as I found myself blown away by every cast member and every number they put on — and I am sure that I was not alone in this sentiment.
Another outstanding factor was that of the intricate set design.  As someone rather fond of traveling, I have seen my fair share of churches and stained glass windows in Europe, and let me tell you, that church's windows were vivid and beautiful.  The detailing was so thoughtful and well-executed, from the pews to the ingenious design of the individual sets (for example, Curtis's club stage, when rotated, became a back alley).  The sound quality of the microphones was very clear, with only some difficulty hearing lyrics when some characters were turning around as part of their choreography.  To top it all off, the lighting really enhanced the mood of every scene, flowing naturally.  I was particularly impressed by the lighting within the church, as it truly conveyed the dim, cozy feeling of standing in an incense-filled room (or weed-filled room, as Deloris might declare).
Hearing Chacon's powerful vocals and seeing her character gradually embrace the sisterly love of the nuns was unforgettable.  There was just something so special about seeing the 20-odd nuns dance and sing together on stage, especially since I recognized in many of their faces classmates of my own.  It was empowering to see them tell a story featuring such strong female roles and focusing on the power of women lifting each other up and overcoming struggles by working hard together, especially amid today's many feminist movements.
On a lighter note, the natural comedic connection of the gangsters, Pablo, TJ and Joey (sophomores Blake Brown, John Baez and junior Owen Lee, respectively) and the impressive rapping skills of the elderly Sister Mary Lazarus (senior Delanie Kitzman) provided for many laughs in the audience.  Another funny moment came from the bar mix-up, in which Joey mistook a drag queen (senior Jacob Mendez).  Watching Deloris's brash personality clash with the strict rules of the convent, as well as Mother Superior's struggle to tame the disco dreamer, definitely gave me many lines to quote (such as, "My God, she's everywhere!").  Sweaty Eddie's solo, featuring elegant dancing by some of the Silver Stars and others, was thoroughly entertaining;  I certainly did not expect the dancers to rip off his clothes not once, but twice.  The musical was full of highly amusing twists and turns, taking me on a journey which I highly enjoyed.
In my opinion, this was one of the best productions that I have ever seen this Fine Arts Department put on.  The execution of it at every level was sublime, and I have nothing but a standing ovation to give for all the hard work of every single person involved.  It truly was a Sister Act, and it showed.