Santaland Diaries wows with snarky sarcasm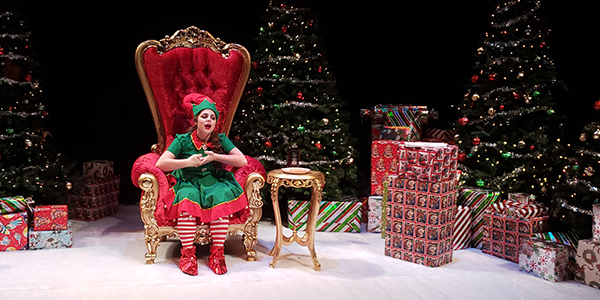 If you look up 'amazing' in the dictionary, you would probably find a picture of "The Santaland Diaries." I was so impressed that the actress behind the one-woman show was able to memorize, and perform an entire hour of monologue wonderfully. Junior Taylor Bench, as Crumpet, kept the audience laughing the entire show.
Crumpet's impersonations of her coworkers and the mothers she faced at work had me in awe. They were hilarious and by far my favorite part of the show. I couldn't believe how well she performed them.
Another aspect of the show that I liked was the lighting. The way they got brighter with Crumpet's mood – or dimmed – served as a very nice touch of foreshadowing.
Aside from keeping the audience entertained throughout the entire show, Crumpet even got the crowd to participate. The audience yelled along with Crumpet as she led them in a cheer routine. She also used members from the audience's names in her act, which seemed to make their day.

Despite the show being advertised as potentially unsuitable for young children, many children still came and enjoyed the show. I, too, enjoyed the show and would recommend it, starring either Bench or senior Eu Jin Kim, to anyone of any age. Crumpet is impeccably relatable because of her constant snarkiness and will make anyone laugh. Who could resist Santa being compared to Satan?