Theatre leaves me caroling out of the auditorium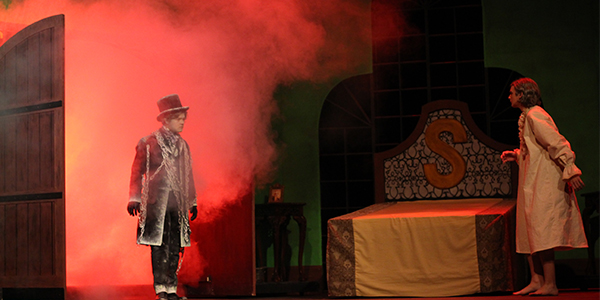 Though the plot line of Charles Dickens' "A Christmas Carol" never rubbed me the right way, the theatre department had me not wanting the show to end. Two hours went by in what seemed like twenty minutes.
Early on, the performance enraptured the audience. Crowds filled a good two-thirds of the theatre, and people continues to file in even after the show started. As soon as the show began, the audience spoke not a word. Everyone thoroughly enjoyed themselves and laughed at Scrooge and his nephew's banter. I could instantly tell that it was going to be a good show when the audience was laughing throughout the entire first scene. Of course, junior Blake Brown (Scrooge) pulled the whole thing together.
The special effects were stunning. The bells chiming filled the entire theatre and people jumped along with Scrooge. Clouds of colored fog billowed out from around doors, completely engulfing the three spirits. It was breathtaking. Between the smoke and the lights, I truly felt haunted. The sound effects throughout the show were perfect, although I thought the twinkling sound assisting the movement of the three spirits' staffs could have been better.
The incredibly detailed costumes amazed me. Jacob Marley's (played by senior Owen Lee) costume awed me completely. His character was my personal favorite, and he did an amazing job with every part he played, especially Marley. He moved as if chains actually weighed down his body and even seemed to float like the phantom he was impersonating.
My favorite scene in the entire show was Scrooge's journey through Christmas future. Scrooge gets to watch in on his flamboyant nephew and friend play "blind man's bluff' and "yes or no." The whole audience laughed along with the actors and actresses.
Theatre sponsor Bryce Ballew even managed to keep his "captive audience" entertained during intermission by having his tech crew play "minute to win it." The tech crew ran around the theatre for a minute, trying to collect as many donations as they could.
The whole cast did an amazing job of keeping the audience's attention and really bring their characters to life. The little girl sitting next to me was on her seat the entire show, completely in love with Scrooge. It is really great that theatre brings the community together by having younger kids act with them. Overall, the show was great, and I would definitely see it again.