Review: Night of Percussion astounds audience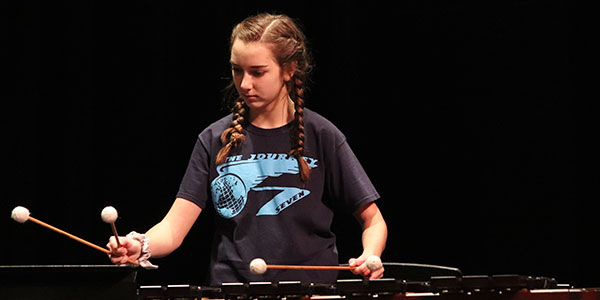 On Saturday, the band put on their eighth annual Night of Percussion, featuring a variety of performances from the elementary, intermediate and junior high schools along with the high school. This year, the theme was "Our Favorite Things." Safe to say, it was amazing.
The night opened with adorable performances from the Wildwood Orffestra and Canyon Pointe Bell Choir. The bell choir was especially good, with surprisingly professional music for such young performers. Like always, the two elementary schools were a fantastic way to begin the show.
Next up were the Northpointe and Oakcrest beginner percussionists, who played a combined piece on buckets, which they put together that day. The Willow Wood steel drum band followed with three delightful pieces they put together in only four rehearsals. All five junior high percussion sections performed their own pieces, concluding with a difficult, and extremely impressive, piece by the Honor Band percussionists.
This all transitioned into the best part of the night: the high school performances. This part of the show opened with a timpani sonata, played by senior Allison Greiner as her senior solo. Three other seniors, twins Allie and Caroline Pearson, who played a marimba and vibraphone duet, and Josiah Lewis, who rocked out on the drumset to Michael Jackson's "Beat It," delighted the audience as well. After they played, all the seniors in percussion, including three oboe players who march on the cymbal line, were presented with drum heads in recognition for their years in the band. Personally, this is one of my favorite parts of the night, because it's always wonderful to see the seniors play and be recognized for all their hard work.
The percussion sections from all four bands played their own pieces. It was nice to see the Concert I band play a piece arranged by composer Dwayne Rice, who wrote the music for the Roarin' Blue Band's marching shows for many years. My favorite of the four bands was the Wind Symphony's performance of "Point of Reckoning." This was the fourth time I heard this piece performed, as they played it at the Baylor concert that the top band was invited to perform at, and once again it never ceased to impress. The interesting rhythms and melodies, along with the funky time signature (10/16, a time signature so rarely played in that I'd never heard a piece in it until this one), made it a delight to hear.
This all transitioned into the highlights of the night. First up were the Boom Crack-a-Lackas. Once again, the percussionists continued their tradition of dressing in funny costumes– this year it was tutus– and performing familiar music by hitting boomwhackers on a PVC pipe. This year they played a tribute to Beethoven, complete with a stone bust of the famous composer's head that mysteriously appeared in Willow Wood's band hall many years ago.
The night ended with a massive blacklight finale, titled "Our Favorite Things," featuring an expanded drumline. Percussionists from every band covered themselves in neon paint and donned their familiar marching drums for a loud, chaotic, and thoroughly entertaining piece that incited a three-minute standing ovation.
As usual, Night of Percussion was a night to remember. It has never failed to impress me or the hundreds of people that show up to see the performances every year. If you have the chance to attend next year, please do yourself a favor and see this fantastic show.  Don't forget, it's free!