Students offer advice on virtual learning
Ore James, Online Editor-in-Chief
February 22, 2021
With the start of an unprecedented all-virtual school week, many students are adjusting to a new routine. Here are some tips, straight from virtual learners, to get through online school.
Check In With Your Friends
"I think my best advice would be to check in with your friends who are also remote. Being a remote student means you don't get to see your friends everyday, but you can always FaceTime them and do your work together so you can keep each other on task!"
-Senior Katherine Chao
Hold Yourself Accountable 
"I think the most important part of surviving learning from home is holding yourself to a much higher standard when it comes to work ethic. You don't have teachers sort of babying you and making sure you're working.
Creating a nice work setup and making sure you're in the best position to learn just as effectively as you would at school is important. Also, make sure that the people in your home know your own situation and create a schedule for yourself."
-Junior Adeen Rao
Set Your Own Bells
"Set an alarm for when your classes start and end! I do it and it's super helpful."
-Senior Michiko Llosa 
Write Everything Down
"Try to find an incentive that will make you work, like listening to music while you work on easier stuff, watching a video, or snacking after doing something harder when you really need to focus.
Write down everything you need to do as you are assigned it, that way you know what you need to get done every day.
Lastly, don't succumb to the urge to give up because you've already been accepted into college."
-Senior Chloe Carter
Stick to the Normal School Schedule
"I would definitely suggest setting up and maintaining a schedule for yourself. Especially with the asynchronous days, it's very easy to procrastinate doing the work, but it's extremely helpful to try to stick to the normal school schedule to finish assignments.
It's also helpful to find something that motivates you to get your work done. If you give yourself time at the end of the day to relax or pursue a hobby, it encourages you to get your work done before 11:59."
-Sophomore Meibeth Cannon
Take Advantage of Your Schedule
"Your schedule is for the most part fluid, take advantage of sleeping in when you can."
-Senior Grace Yin
Create a Separate Workspace
"I'd say a good tip is to separate your workspace and your playspace. Since lots of people will use their computers for both games and work, it can be easy to lose focus, so physically move the location where you work."
-Senior Alejandro Salinas
Take Time to Relax
"I definitely recommend just taking a breather because it can all seem so overwhelming! Also creating a to-do list probably would help with motivation because crossing things off lists is satisfying."
-Junior James Nguyen
About the Writer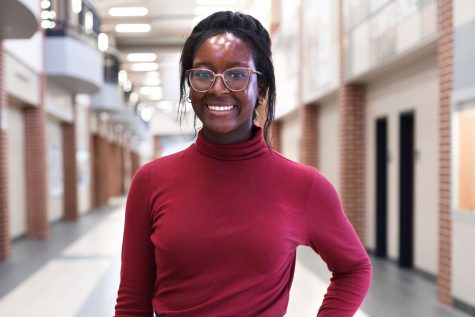 Ore James, Online Editor-in-Chief
Hey there! I'm a senior and this is my third year working on the site. If I ever have free time, you can usually find me taking photos, sleeping or listening...