Wildcats tasked with containing West Brook's Star QB, and outrunning their defense
The second edition of a two year home-and-home between the two sides is tomorrow in Beaumont
Tomorrow evening, the Wildcats will take the long two to two and a half hour road trip to Beaumont to play the West Brook Bruins in a rematch from last season. The Wildcats won that game 66-63, and a lot of faces from both sides of the game are returning for this one, making for an intense battle bound to feature a few butting chins.
The key difference between this year's edition is it's the Wildcats that have to make the road trip instead of the Bruins, but as far as the player to watch for the Bruins, nothing has changed. It remains blue-chip recruit Bryce Anderson- who is currently committed to play safety at Texas A&M. Anderson, the quarterback for the Bruins, hosts a number of elite playmaking capabilities with his ability to scramble and even uses his elite speed to create separation. The Bruins offense is fueled by him, and their ability for other players to perform relies on Anderson causing defensive coordinators to modify their strategy around containing him.
As far as the entire offensive structure, the Bruins often run with one running back and four guys lined up at wideout, with #20 often being used as a blocker alongside the offensive line. Most of their plays are designed for Anderson: quarterback draws, read options, and even just passing plays where Anderson can scramble. Last season, Anderson's scrambling was the key factor in the Wildcats allowing 63 points, so the plan will likely have to be one of the Wildcats linebackers be a spy on Anderson throughout the game. As far as speed and tackling ability, I'd say seniors Kale Berter or Jesus Castanon are a pretty good bet to take on that role. The Bruins offense as a whole just relies on breaking tackles so guys like senior Cayden Stegall and sophomore Blake Holt, who had standout tackling performances last Friday, need to bring that same energy tomorrow.
I interviewed Berter this week, and he told me that the defense will work on disguising their coverages a lot in practice this week, which is going to be key because if the Wildcats can get Anderson to make mistakes throwing the ball and to generate turnovers, it can completely change the course of the game.
Defensively, the Bruins run what we would call a preventative style defense. The structure's job is in its name: to prevent big plays. They run man-to-man defense, often with three linebackers and one of which can drop in coverage, as well as three defensive backs with four defensive linemen. This defense has a major weakness in the forms of short crossing routes and check
down passes to the running backs, as seen by the second play of their game last week vs Beaumont United which was a huge passing touchdown off a simple crossing route.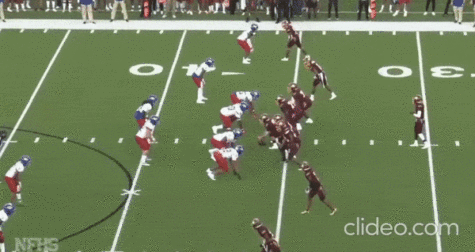 Look for the Wildcats to exploit this weakness heavily with athletes like Espen Ramos, Chase Lovick, and Zach Fields lining up at wide receiver and senior Richard Rodriguez at tailback. I asked Rodriguez before the season started if we were going to see him catch passes out of the backfield and here's what he had to say.
"We got some surprises this season," Rodriguez said. "You'll see when the time comes, but we got some surprises."
Rodriguez has caught 11 passes in the last two seasons that have all been relatively productive and more importantly not the easiest to find in film, so it could be a surprising focal point that the Wildcats manipulate on Friday against the Bruins.
Additionally the Wildcats have two quarterbacks, who are very different, so the Bruins will have to prepare for both sophomore Lane Stockton and junior Reed Odell- Lane being the smaller right-handed option and Reed being the bigger left-handed often. Odell's unique trait of being a left-hander completely changes a defenses structure, and I spoke to Odell this week about how much of an advantage being left-handed brings to the table.
"I honestly think there are no disadvantages to being a left-handed thrower," Odell said. "As a defender, you're used to the ball coming at you from the right, and when I throw the ball, it is coming at them from the left, so they will have to adjust."
Whether it is Stockton or Odell getting the bulk of the snaps tomorrow, the offensive line will need to make an improvement from last Friday in terms of run blocking and snapping if the Wildcats are going to win this football game. After asking various coaches and players, it seems the snapping problems are fixed, and Senior Tucker Roberts will overtake center duties for now. In my talks with offensive line coach Scott Wiesmann, he told me he has specific demands for the seniors on his offensive line.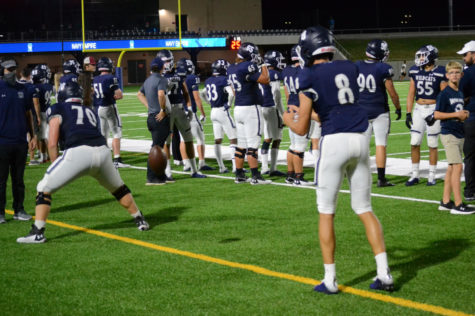 "Something that I haven't seen much of yet that I would like to see from them is leadership," Wiesmann said. "We have two underclassmen on this line, and I want to see my older guys lead by example."
Sophomores Hayden Winsor and Colin Helmer impressed in the special teams front on Friday, and they will need to do it again as field position is huge in a game as tight as this. Windsor pinned 66% of his punts inside the 20, and Helmer and the kickoff team limited Nimitz to only one return past the Nimitz 40 yard line. Senior Burke Aubele will need to continue his perfect start on the extra points, but during last season, a huge turning point in the game against the Bruins was a field goal block return touchdown which brought the Bruins back in the game right at the half. If the time comes for Aubele to hit a kick that isn't an extra point, he needs to make sure to get the kick quick and high.
Wildcat students are advised to wear camouflage tomorrow in support of hunting down the Bruins.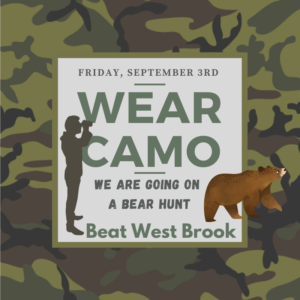 The tensions are high between both teams before this one, with a lot of West Brook players engaging in some unfriendly trash talk on social media before the game, but the Wildcat players are looking forward to letting their play on the field do the talking as it did last year. Tensions aside, expect another barn burner of a game with two teams with high firepower clashing for the second year in a row.