Nothin' But Net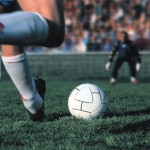 Dead silence.
Magnolia's orange jersey blowing in from behind the net and as the goalie sways back and forth while one of our Lady Cats  lined up the ball with the PK line. With a score of 4-4, it all boiled down to this one shot.
The ball released from Michaela's foot and the goalie lunged- only to miss the ball.
Last Friday night, the Lady Wildcat varsity soccer finished districts and earned a spot for playoffs after a hard win over Magnolia.
"It was pretty exciting," freshman Sam Pier said. "But at the same time, it was a really close game. They were tough and we had to be tougher."
Pier also said that her teammates contributed to helping out their win despite her being the only person to score outside of the shootout rounds. With her shot, the game ended at a tie of 1-1, sending the game into two consective rounds of overtime.
"We couldn't find the goals we needed early enough, " Head coach Kevin Meyer said. "  We played well and they played well so it became more of a back and forth game between us and them and that was the result."
Even with their offensve capablities, the team couldn't manage a goal during the extra 30 minutes. Plenty of shots were attempted, but the were either blocked or a miss,
"No one scored in the overtimes and it was frustrating people " sophomore Megan Guy said. "You could see it on people's faces; they wer getting really tired of it. People just wanted it to be done."
Good defense with alternating offensive and midfield stratgies sent the Lady Cats into shootout -alternating rounds of five penalty kicks for both teams.
"I made my PK," junior Karley Pekowsky said.  "It was an easy shot for me, but I know for the others it was really stressful."
After the first five shots, both teams were tied with four scores and one  miss and another round of shootout began. The winning penatlty, scored by Michaela Sabrsula, came first shot and settled the Wildcats into spot in districts with their win. Meyer said that though the win wasn't by a large margin  it was still something to be proud of.
"No, I'm not upset at our playoff spot, " Meyer said. "We're in a phenomenal season and all it does is give me and my girls two extra  months to play soccer."
His players also feel the same way. They view the win as something to be proud of despite a few small shortcomings.
"It was bittersweet, " junior Natalie Pool said. "We wanted to win by three in order to get second place, but we didn't. But it doesn't really matter anymore. Today we start the real stuff- playofffs."