Student Athletes Acknowledge Achievements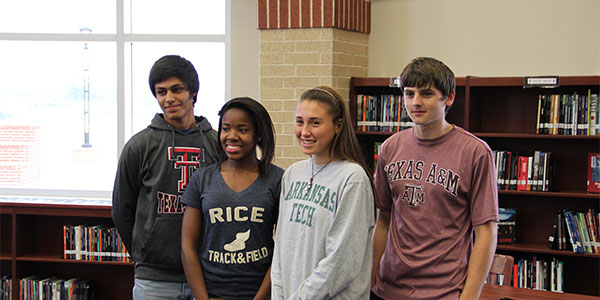 Athletes gathered in the library to announce which colleges that they will attend next year on Wednesday Dec. 10. As they announced where they would attend, their family and coaches gathered around to honor their huge accomplishment.
Four students were a part of the celebration in the library; Seniors Antonio Ruiz, Akuira Young, Teresa Sanchez, and Jacob Wooten.
"We do this every year to recognize what the students have accomplished," Athletic Director Fennis Vanover. "We do it for them and their parents to commemorate their great achievement."
Senior Akuira Young will be attending the University of Rice next year.
"I'm really excited to be attending there. I'll be on their track and field team running the 400 hurdles," Young said. "Academically I'll be studying neuroscience, and I know it will be challenging but, I'm really looking forward to both track and studying at such a great campus."
Senior Teresa Sanchez will be attending Arkansas Tech next year.
"I decided to go to there because I was able to get a full ride to attend," Sanchez said.
Head tennis coach Misti Taylor was there to honor her athletes.
"It's been great watching not just my tennis players succeed but all the athletes that are here today succeed," Taylor said.
The celebration was a moment for the students to remember and reminisce on later in life.
"This is a tradition that we'll continue every year," Vanover said. "It shows how much talent we have in this school academically and athletically."